Godzilla Gets An Italian Suit
Owners and fans of Nissan's rip-roaring GT-R affectionately call it "Godzilla" after the giant fire-breathing cinematic Japanese lizard that has either destroyed or saved entire cities in 30+ films since 1954. (The next is due in spring 2019.) With a thunderous roar from its hand-built twin-turbo V6 and claw-like grip from a complex all-wheel drive system, the GT-R has been tearing up roads and tracks for a decade.
Now, Godzilla is stepping into the world of Italian design with the GT-R50, a collaboration with Italdesign in Turin, Italy. The "50" marks the 50th anniversaries of the GT-R (2019) and Italdesign (2018), and it's also the number of cars to be built.
Priced Accordingly
The price for this rare monster mashup is $1.1m, for which you could have 10 standard GT-Rs. Nissan U.S.A. brought the GT-R50 prototype here for Monterey Car Week festivities, and company spokesman Josh Clifton told Premier, "The response was really positive, so it's possible that at least one GT-R50 will find a home in the U.S."
As a side note, the Nissan's anniversary is for the Skyline GT-R, which never officially made it stateside but is a popular independent import thanks to DOT/EPA exemptions.
The Monster Within
Italdesign will give the GT-R an entirely different, hand-built body, preserving the model's general character around what Nissan designer Alfonso Albaisa has described as a "car within a car" theme. The grille and entire rear section appear to be emerging from within the car.
What does emerge are another 110 horses over the 600-horsepower, track-tuned GT-R NISMO variant, thanks to bigger turbos and other tweaks. Figure on 0-60 in less than 3 seconds, a quarter-mile in under 11 and a 200-mph top speed.
Mothra and Rodan don't stand a chance.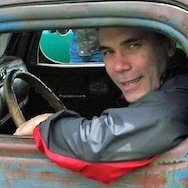 Written by Jim Koscs, Audamotive Communications
For Premier Financial Services