McLarens, Porsches, Ferraris – Oh My!
Last month, Monterey was the place to see Bugattis, Paganis, McLaren P1s, Porsche 918s, Ferrari's top supercars and maybe a Lamborghini Cantenario or two – and that was just in the parking lots. This Sunday, Sept. 30, the place to see those cars, and to show your own, is at shopping mall in Paramus, New Jersey.
Somebody call Guinness, because the event organizer, Cars & Caffe Bergen County, and co-host Top Gear Imports, are expecting about 7,000 cars to participate. The first such event drew that number on a sunny day last October. The event suggests a $10 per-person donation to show a car or to be a spectator, and all proceeds go to St. Jude's Children's Research Hospital. Previous events have raised more than $30,000 for that cause.
If you're from this area, you may already be familiar with Cars & Caffe Bergen County and its monthly gatherings. These draw 400-500 top sports and exotics from area collectors, along with Corvettes, muscle cars, Nissan Skylines and other classics.
Expected to Draw 7,000 Cars
Last October, event founder Tony Boniello decided to add two big shows per year. Using his own email list and social media accounts, Boniello was able to draw 7,000 cars to Garden State Plaza mall in Paramus, located where State Highways 17 and 4 meet. (Bergen County retailers are closed on Sundays, but the mall's restaurants are open.) The second large event, held last spring, drew 3,000 cars – in the rain.
Boniello, who is 25, started Cars & Caffe with a small show at his former high school in Ridgewood, NJ while he was in college. Along the way, he has befriended numerous collectors throughout the area and has confirmed that some are bringing their top machines to this Sunday's event. Top Gear Imports in Saddle Brook, NJ is the main sponsor.
For a preview of the event, check out this drone footage from last year's show: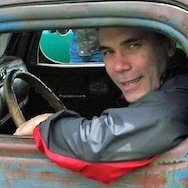 Written by Jim Koscs, Audamotive Communications
For Premier Financial Services