Celebrate Bentley's 100th
If you're attending the Pebble Beach Concours d'Elegance this month, be sure to stop by the Bentley display. The marque is introducing a special model to celebrate its centennial, which occurs in 2019, and the car includes a unique piece of Bentley history.
The 2019 Bentley Mulsanne W.O Edition is named, of course, for the founder, W.O. Bentley. The Mulliner designers took inspiration for this model from his personal 1930 Bentley 8 Litre.
They also, quite literally, took a piece of its crankshaft. Sit in the back seat, you'll see it displayed on the center console between the wonderfully sumptuous seats and behind the cocktail glasses.
W.O. had to sell his personal 8 Liter when Rolls-Royce took over the company in 1931. Bentley bought and restored the car 12 years ago. The big, heavy crankshaft was replaced, and the original part sat in storage.
The Sound of Bentley Silence
The 220-horsepower inline six was Britain's most powerful auto engine at that time. W.O. said, "I have always wanted to produce a dead-silent 100-mph car, and now I think we have done it."
It's a safe bet that the 2019 Bentley Mulsanne W.O. Edition offers more silent silence than the classic car. The special edition is available on the standard or long wheelbase, or the Mulsanne Speed model. The combination of the Onyx exterior paintwork and red leather interior is meant to evoke the original car. "W.O. Bentley" signatures inside and out are further reminders of the marque's origin.
The 100 customers can instead choose any paint color they prefer, as well as the option of a chrome grille. And, if you prefer a slice of lemon to a slice of crankshaft with your cocktail, there's room in the Bentley's rear liquor cabinet to store all you need.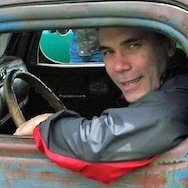 Written by Jim Koscs, Audamotive Communications
For Premier Financial Services