Streamline Babies
You don't hear the term "streamlined" to describe modern vehicles. You might hear "aerodynamic" or "aerodynamically enhanced". In any case, the process of designing cars with help from the wind tunnel owes a great debt to pioneering designers and engineers who long ago recognized the potential performance benefits of reducing wind resistance.
The early results of automotive streamlining were nothing less than art. Which is why the Portland Art Museum is celebrating the era with a special exhibit. The exhibit features 19 rare streamlined vehicles,The Shape of Speed: Streamlined Automobiles and Motorcycles, 1930-1942. It opened June 16 and runs until September 16.
Trains, Planes and Automobiles
Streamlining took root in locomotive design in the 1930s, at which time automobile designers were also introducing the concept. The promise of streamlining for cars, however, was not readily accepted by the public. Chrysler's Airflow models, introduced for 1934, were significant advancements but commercial flops. The streamlined Lincoln Zephyr of 1936, however, was critically acclaimed and a success for the brand.
In that period, a new future-looking school of architecture now known as "Streamline Moderne," emerged, influencing everything from vehicles to household appliances.
The Portland Art Museum will display 17 cars and two motorcycles from Europe and the United States. Among automotive marques featured in The Shape of Speed are Mercedes-Benz, which restored one its Stromlinienwagens (streamlined cars) from 1938, along with Alfa Romeo, Bugatti, Chrysler, Cord, Delahaye and Talbot-Lago.
Americans Gordon Buehrig, Harley J. Earl, Buckminster Fuller, Norman Bel Geddes and Raymond Loewy, and Europeans Paul Jaray, Hans Ledwinka and Wunibald Kamm and are among the designers featured in the exhibit.
The Shape of Speed is guest curated by noted automotive historian Ken Gross, former director of the Petersen Automotive Museum.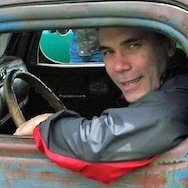 Written by Jim Koscs, Audamotive Communications
For Premier Financial Services