Racing In Their Blood … And Paint
Well, that was quick. Aston Martin introduced its DB11 flagship model in 2017 and now, for 2019, it becomes the DB11 AMR. As if the original was not fast enough, the Aston Martin Racing sub-brand has stepped in to dial it up another few notches. While at it, AMR crafted a new top-of-line four-door, the Rapide AMR.
Starting with the DB11 AMR, the move seemed necessary, since the new V8-powered DB11, with a twin-turbo engine from Mercedes-AMG, was encroaching on the V12's territory. To remedy that situation, AMR boosted output of the twin-turbo 5.2-liter V12 by 30 horses to 630. Torque remains the same at 516 lb-ft. The 8-speed automatic transmission and suspension have also been tweaked, and the exhaust note is ratcheted up in Sport mode.
The DB11 AMR's 208-mph top speed ought to keep those pesky DB11 V8s in the rear-view mirror. There's a darker mood here, too, with darkened grille, taillight lenses and other trim. Hood blades and side strakes (What, it this Death Race 2000?") are now carbon fiber.
The starting tally for the Aston Martin DB11 AMR is $241,000. Opt for the AMR Signature Edition, and you get AMR's Stirling Green and Lime-accented livery, with a cabin trimmed in Dark Knight leather with Lime detailing. Aston Martin will make just 100 for global consumption.
A More Rapid Rapide
Aston Martin is also offering a Rapide AMR, limited to 210 cars. Not quite as powerful as the DB11 AMR, the Rapide AMR remains rapid indeed with about 595 hp and a 205-mph top speed. The body wears a bigger grille and a suite of carbon fiber aero elements. The marque's first 21-inch wheels have Michelin Super Sport tires around them and carbon-ceramic brakes behind them.
The Rapide AMR starts at $240,000. You can choose from Standard, Silhouette and Signature design schemes, the latter with the racing division's Stirling Green paint with Lime accents livery.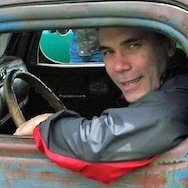 Written by Jim Koscs, Audamotive Communications
For Premier Financial Services