A Smooth Drive Back in Time
In a market overflowing with 600-horsepower sports cars and sedans, it can get a little too easy to forget how much fun 120 horsepower can be. In fact, 120 horsepower can create a transformative experience, whisking you back in time like one of those rare Twilight Zone episodes that had a hopeful ending.
That's the effect of driving a 1931 Packard 840 with a rumble seat. Take your pick, convertible coupe with a true "landau" roof or the rakish roadster with side curtains. Either way, can you see yourself cruising along the Pacific Coast in the Pebble Beach Motoring Classic in one of these time machines?
Brand new, a Packard 840 could cost up to about $3,600 when average annual income in America was about half that. Today? You might have to multiply that by about a factor of 60-80.
Among the World's Best
Many car enthusiasts of a certain age still lament what we lost when Packard disappeared into an ill-fated merger with Studebaker in the 1950s. The final cars, interesting for their historical role, paled in comparison to the pre-WWII Packards that established this marque's world-class design, engineering, craftsmanship and luxury.
The eight-cylinder 840 models of the early 1930s exemplify Packard's mastery of its craft. Packard, somewhat confusingly, began referring to its cars by "series" number rather than model year in 1923. These roughly corresponded to a model year, but not always. The 1930 cars were Seventh Series; the last of the 1942s built before WWII were the Twentieth Series.
The Eighth Series cars arrived in August 1930, as America was falling into the grip of The Great Depression. There was still a market for luxury cars, but Packard would also start developing its first "Junior" series car, the beautiful 120, to sell for about $1,000 in 1935. The 120 saved Packard but also put it on a collision course with destiny as it went head-to-head with larger brands.
Eight Was More Than Enough
The Eighth Series cars included models designated 826, 833, 840 and 845, characterized by large steel disc wheels, three-spoke steering wheels and deeper sweeping fenders with plain bumper clamps. Available Pilot Ray driving lights on the front bumper that turned with steering wheel direction. The Roadster, body style 471 riding on a 140.5-inch wheelbase, was Packard's last without roll-up windows.
There were two versions of Packard's famously smooth, high-torque side-valve straight-eight engine. The 319-cubic inch version produced 100 horsepower, and the 384-cubic inch DeLuxe Eight made 120. The engineering was beyond reproach, featuring an iron-steel alloy block for high strength, and featuring the intake manifold cast into the block.
A drop-forged counterbalanced steel crankshaft ran in nine bearings. Connecting rods were diamond-bored. Crank pins and piston pins were pressure-lubricated, and the long camshaft ran in eight bearings. Everything was designed to ensure smoothness, quiet operation and durability.
To give the engine an appearance that reflected the quality within, nickel-plated fastening nuts were polished, and all control rods and piping were buffed nickel. This was American automobile making at its finest.
The Deluxe Eight engine was teamed with a 4-speed manual transmission. Low-speed cruising in top gear was effortless with more than 300 lb-ft of torque available at low rpm, vital for the car's 4,000+ pound weight. The ride was as smooth as solid axles on leaf springs could make possible. Sporting drivers gravitated toward the rumble seat roadster, which had replaced an earlier Speedster style.
Take It Easy
One advantage to Packard's "Series" scheme was that a customer could sometimes upgrade to the next series without buying a new car. For example, the Ninth Series models arrived in June 1931. You could buy one of the remaining Eighth Series Roadsters for about $2,000 (marked down from $2,425) and have it upgraded with a kit that installed the updated V-shaped grille and stone guard, V-shaped headlight bar, hood with four vent doors, outside horns double-bar bumper and dual taillights.
Packard built just 626 of its 840 models in 1931. Total Packard sales slid from 28,386 in 1930 to 12,922 in 1931. By 1934, they'd fallen to half that. With the mass-produced Model 120 on its way, prosperity was just around the corner — at least for a while.
Lower the top and enjoy the scenery while listening to that Packard Eight whir away.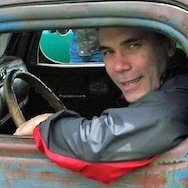 Written by Jim Koscs, Audamotive Communications
For Premier Financial Services