A "Game Changer"
The countdown to Porsche's Mission E continues, with the production car due next year. In the meantime, the company keeps the teasers coming. Last week, in an official Porsche video posted on YouTube, retired racer Mark Webber drove a prototype around Porsche's Weissach test track and pronounced it a "game changer."
Webber won the FIA World Endurance Championship in a Porsche 919 in 2016. True, he is speaking in his capacity now as a Porsche representative, but when it comes to electrified powertrain performance, Webber knows of what he speaks. And he said this:
"600 horsepower, that is something to behold."
So that makes it at least semi-official; the Mission E will have the 600 horsepower Porsche has been touting for concept cars. Does anybody seriously think Porsche would promise 600 horsepower and then under-deliver?
In Porsche's latest media release on the Mission E Cross Turismo Concept, the carmaker touts 0-60 in 3.5 seconds and 0-200 km/m (124 mph) in 12 seconds.
Essential Features of Porsche's Electric Motors
Before Tesla owners start bragging about their 2-second 0-60 sprints, consider that (1) Porsche's official performance stats are almost always understated, and (2), Webber's video strongly hints that the Mission E will impress well beyond 0-60 and quarter-mile sprints.
Some months back, Albrecht Reimold, member of the executive board for production at Porsche, took a thinly veiled shot at Tesla, saying, "High continuous output, acceleration reserves, and reproducibility with power takeoff are essential features of Porsche electric motors."
So, when Webber calls the Porsche Mission E "a game changer," he's talking about the full performance gamut, including road course driving.
Webber did acknowledge that the Mission E is heavier than a conventional car, but he praises its agility and braking. Considering Porsche's talent with making heavy SUVs handle with alacrity, there really could be little doubt that they'd have any issues with doing the same for a low-slung sedan. Carrying the huge battery pack in the floor, as most purpose-designed EVs do, certainly helps, but you can also count on Porsche's usual suspension magic.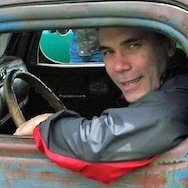 Written by Jim Koscs, Audamotive Communications
For Premier Financial Services