Turning an SUV into a GT
Some years ago, a Land Rover executive shared with journalists an intriguing "problem" the brand had at the time: customers wanted more expensive vehicles. Of course, they wanted more stuff to go with the higher prices.
Land Rover/Range Rover has spent the ensuing years complying with that wish, and one can see the current culmination of those efforts in the limited-production Range Rover SV Coupe revealed at this year's Geneva Motor Show. The most expensive, most luxurious vehicle from the brand so far, the SV Coupe is also the fastest full-size Range Rover ever.
The MSRP of $295,000 is about two Range Rover Velar S models more than the top-line Range Rover SV Autobiography Dynamic. Production for worldwide consumption is just 999 units.
Range Rover Luxury, in Context
As Range Rover models have become the majority in the Land Rover line, it's interesting to see where all this SUV bling came from. The original Range Rover was a two-door, though not called a coupe. It was introduced in 1970 as an "upscale" SUV, a step up from the Land Rover Series IIA you remember from movies and TV specials about faraway safaris.
In that first Range Rover, "luxury" was, well, perhaps better sound insulation than in the little Land Rover. The design was certainly more modern, and instead of a wheezy four-cylinder engine, there was an aluminum V8 that began as a Buick engine in 1961 and was sold off to Rover, lock, stock and barrel a few years later.
Luxury? The interior had a better finish than the Land Rover, but upholstery was vinyl and the dash was plastic, so you could wash out the interior with a hose. Ride comfort was better than a Land Rover. When the Range Rover arrived in the U.S. just over 30 years ago, it had two more doors and luxuries like leather upholstery, carpeting, power steering, air conditioning, power windows, etc. as standard. Washing out the cabin with a hose was not advised.
A Real Coupe, Just Boxier
Much has happened to luxury SUVs since the Range Rover established a beachhead in America. For many drivers, in most segments, SUVs have replaced traditional sedans. And now, it seems, they're targeting coupes.
While the Range Rover SV Coupe may not have the sensuous shape of a Ferrari 812 Superfast, it at least has the number of doors that many consider mandatory for a true coupe. But Land Rover did not take a Sawzall to a four-door Range Rover SV to subtract two entry points. The hand-built Range Rover SV Coupe gets its own new body that shares only the hood and lower tailgate with the four-door model. The low roofline is more in keeping with the coupe persona, and the 23-inch wheels look like something from a concept vehicle.
The SV Coupe also features its own two-piece grille design, handcrafted badges and other jewel-like details. Expansive customization choices include 29 paint finishes: four two-tone schemes, 16 colors from the high-zoot SV Premium Palette and one "liquid metal" finish.
Roar Like a Jaguar, Soothe Like a Rolls
As a member of the Jaguar Land Rover family, the Range Rover SV Coupe benefits from its supercharged 5.0-liter V8. In the SV Coupe, it uses the same tune as in the SV Autobiography Dynamic, so you get 557 horsepower and a five-second 0-60 sprint. Top speed is 165 mph. Is the weekend track car that you could tow with the SV Coupe that fast?
The cabin is as opulent as any bespoke offering you might find today. The four individual seats are covered in diamond-quilted leather from a 113-year-old tannery, although the cows are much younger. Front seats are 20-way adjustable, rear chairs are 10-way. Among the eight color choices are four gorgeous two-tones, meaning different colors for front and rear seats. And speaking of tone, the standard audio system is a 1,700-watt, 23-speaker Meridian system.
The wood trim, which is just about everywhere, including the cargo area floor, includes one choice that's a sandwich of walnut and sycamore. Very tasty. The dash is a veritable Starship Enterprise with the brand's new multi-screen control displays, yet the layout is elegantly uncluttered.
Should a fully optioned Range Rover SV Coupe still not be expensive enough for some, the brand is probably open to suggestions.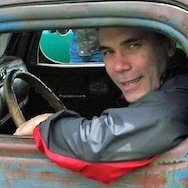 Written by Jim Koscs, Audamotive Communications
For Premier Financial Services