The Luxury EV Wave Continues
The Jaguar I-Pace arrives this summer, and behind it, a veritable tidal wave of luxury EVs is poised to follow. The BMW i3 and Mercedes-Benz B-Class Electric Drive may have been the first full EVs offered by established luxury marques, but the Jaguar I-Pace is the first to deliver the striking design, high power, premium content and 200+ mile range that Tesla established as benchmarks for this category.
The 2019 Jaguar I-Pace will start at an MSRP of $69,500. A specially equipped First Edition model will start at $85,900 and come with more luxury features, but the same powertrain. Automotive media have driven the I-Pace, and early reviews are quite positive. Full road tests with performance figures and verifiable range will be coming later.
Based on its I-Pace preview drive, Motor Trend concluded, "The future just got real. And we've driven it."
Crossing Over
Jaguar decided to make its first EV a crossover, joining its F-Pace and compact E-Pace models. It's built on a longer wheelbase than F-Pace (117.8 in. vs. 113.2 in.), but two inches shorter at 184.2 in., as well as 4 in. lower. The result is a more stretched-out, wheels-at-the-corners look. It's a Jaguar, so let's call it a "crouched and ready to pounce" look.
Without the constraints of packaging a front-mounted gasoline engine and transmission, Ian Callum and his design team have created a new form that seems to blend sedan, coupe, hot hatch and crossover. The result is quite alluring, and also roomy. Without a radiator, there's no need for a grille, but Jaguar opted for a faux grille anyway, to convey brand identity. Good call.
Heavy Hitter
Thanks to a big battery pack needed to yield 200+ mile range, the Jaguar I-Pace is rather heavy. At 4,800 pounds, the I-Pace is 1,000 pounds heftier than the F-Pace, which happens to be among the lighter of its crossover ilk. Yet, the I-Pace is also a significant 400 pounds lighter than a Tesla Model X SUV.
Forget those weight figures. Carmakers have shown they can make heavy SUVs handle with alacrity, and EVs offer another advantage here, since batteries can be mounted low in the vehicle. As in other EVs, the I-Pace's liquid-cooled 90 kW-hr lithium-ion battery pack resides in a flat configuration beneath the cabin, contributing structural integrity to the vehicle, and, not surprisingly, helping to lower the center of gravity. Combined with an aluminum body, the result is a center of gravity five inches lower than in Jaguar's own F-Type coupe.
No Roar, but Sharp Claws
If you want the best in Jaguar sound, the car for you is an F-Type R or SVR. The I-Pace gives up the roar, but then, what wildcat ever caught its lunch by first warning it with a roar?
The I-Pace employs two synchronous permanent magnet electric motors, one powering the front wheels and another driving the rear wheels. Each produces 197 hp and 256 lb-ft of torque, or 394 hp and 512 lb-ft in total. Jaguar says the I-Pace will zoom from 0 to 60 mph in 4.5 seconds, and range on a full charge is claimed at 240 miles. Those figures are comparable to the Tesla Model X 75D, which manages 0-60 in 4.9 seconds and offers a 237-mile range. Remember, an EV delivers its peak torque instantaneously, so it feels even faster than gasoline-engine models of comparable performance.
The I-Pace's handling chops are reinforced by F-Type front suspension and F-Pace rear suspension, augmented by height-adjustable air springs. The air suspension adapts to conditions, lowering the I-Pace for easy passenger entry and exit, and raising it by two inches for off-pavement driving. When cruising above 65 mph, the I-Pace lowers by about a half-inch to reduce aerodynamic drag and maximize range.
Motor Trend says Jaguar's EV engineering pays off on the road, offering this praise:
"What was also noticeable was a lovely fluidity to the chassis, steering, and powertrain. Some electric cars we've driven have a determinately digital demeanor; the refined and composed I-Pace feels organic and natural."
Genuine Jaguar Luxury
Jaguar will offer the I-Pace in S, SE, and HSE variants, plus, for the first year only, the high-zoot First Edition. There's luxury a' plenty here, with a particularly posh cabin and a Bluetooth key that activates preferred settings for seats, climate control and music as you approach the vehicle. The I-Pace also debuts Jaguar's new Jaguar InControl® Touch Pro Duo™ infotainment system featuring 10-inch upper and 5.5-inch lower touchscreens. And, using any Alexa-enabled device, you can check on charge level and vehicle status.
Tesla, you've got company, with lots more to come.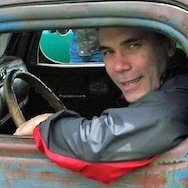 Written by Jim Koscs,  Audamotive Communications
For Premier Financial Services