Ferrari CEO Sergio Marchionne said "never" to a Ferrari EV, until confirming one in January.
I sing the Ferrari electric.
January 16, 2018 was another black-sweater day in Ferrari history. Ferrari CEO Sergio Marchionne told journalists at the North American International Auto Show in Detroit that the legendary sports car maker would make an electric supercar.
Not surprisingly, Hell froze over that same day. An hour's drive west of Detroit, it was snowing in Hell, Mich., where the temperature was a balmy 18 degrees. As for that "other place," the only road in likely also had a slippery coat of ice over its pavement of good intentions.
Remember, not too long ago when Marchionne promised, in the most vehement terms, that Ferrari would never build an SUV? Now there's a Ferrari SUV on the way, one that Marchionne said in Detroit would be "the fastest on the market." In the recent past, he was also adamant that there would not be a fully electric Ferrari. But as reported by Bloomberg, in Detroit he said, "If there is an electric supercar to be built, then Ferrari will be the first. People are amazed at what Tesla did with a supercar. I'm not trying to minimize what Elon did but I think it's doable by all of us."
By "all of us," Marchionne probably means Aston Martin, Jaguar, Maserati, Mercedes-Benz, and Porsche, all of which have EVs on the way.
The Tesla Effect
Ferrari essentially has no choice but to add more hybrids (which Marchionne also confirmed in Detroit) and also do a pure EV. Raising production to a 10,000 annual "limit" subjects Maranello to stricter fuel economy regulations than it faced at the 7,000-unit production level.
Ferrari is of course no stranger to hybrid power, having tried Kinetic Energy Recovery Systems (KERS) in the 2009 Formula One season and then adapting some of its technology to a concept road car in 2010, the 599 HY-KERS. In 2013, the LaFerrari supercar paired a V12 with a HY-KERS unit in a mild hybrid configuration.
It's probably a safe bet that Ferrari has already put out EV feelers to some of its elite customers around the globe. More than a few of them might also own a Tesla, or have at least sampled one – or had their Ferrari's doors blown off by one. Some are no doubt already adding their names to the waiting list.
A New Target
Marchionne did not reveal any details on the Ferrari EV, but Maranello will have to aim high. Last summer, Elon Musk announced a new Tesla Roadster for 2020. He also promised it would be the fastest production car in the world, capable of 0-60 in 1.9 seconds, 0-100 in 4.2 seconds and running the quarter-mile in 8.9 seconds. Oh, and Musk said it will have a top speed of 250 mph and go 620 miles on a charge, all for about $200,000. Although Musk sometimes overpromises a wee bit, keep in mind that his SpaceX company successfully lands rocket boosters for re-use.
Even before the upcoming Roadster (a 2+2, by the way), Tesla has already shown that EVs are the future of maximum acceleration performance. Electric motor and battery technology continue to advance, of course. And Keep in mind, too, that beyond the sheer numbers, the g-force associated with such performance becomes addictive behind the wheel.
What a Ferrari EV Has to Be
The Tesla Roadster will have three electric motors, driving the front and rear wheels. It's reasonable to expect a Ferrari EV to drive both ends, too, which is necessary to harness the levels of torque involved.
One might also bet on a record lap time around Ferrari's Fiorano test track. Jaw-dropping design is another given, as is extensive use of lightweight materials. And expect an absolute killer audio system, because now, without a V12 or V8 screaming away, you'll be able to hear it.
At least one Ferrari owner couldn't wait for the factory's EV. Eric Hutchison, a commercial real estate broker in San Marcos, Calif., converted a salvage-title 308 GTS to battery power and established a company, Electric GT, to do the same for other classic vehicles.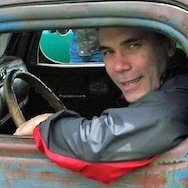 Written by Jim Koscs, Audamotive Communications
For Premier Financial Services