A Unique Ferrari Took Top Billing.
A week of auctions in Scottsdale, Arizona tallied $230+ million for more than 2,600 cars covering the entire automotive spectrum. The top 10 sales accounted for nearly $36.3m. Four of the top 10 sales were Ferraris, #1 being a noe-of-a-kind 1965 Ferrari 275 GTB Speciale Coupe. Conspicuous by their absence in the top 10, two Jaguar D-Types failed to sell. Both receiving bids that were $1m-$2m below the low end of pre-sale estimates.
Prices shown include buyer's premium: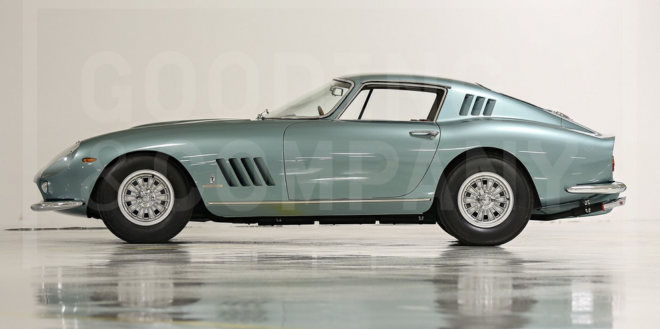 This Ferrari was quite "speciale" indeed, a one-of-a-kind Prancing Horse crafted by Carrozzeria Pininfarina was built on one of the first two chassis made. This car became the auto show display model, as well as the personal car for Battista Pininfarina. As such, it was the only 275 GTB built by Pininfarina, rather than Scaglietti. Its inner structure differs from the Scaglietti-built cars. In addition, numerous bespoke coachwork touches, and it has the six-carburetor engine. One of the most sought-after Ferraris for many years, this 275 GTB Speciale has been fully documented by Ferrari historian Marcel Massini.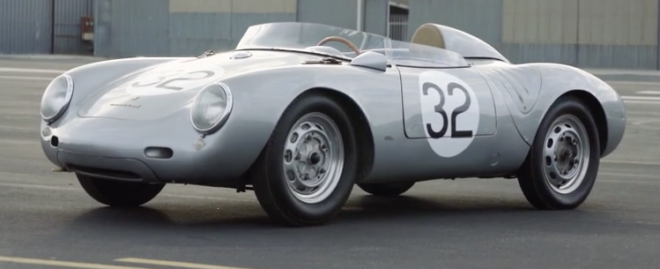 The Porsche 550a was a substantial evolution of the 550 unveiled in 1953. A new spaceframe chassis replaced the old ladder frame, cutting nearly 100 pounds. Changes to the aluminum body trimmed another 65, bringing race weight to just 1,170 pounds. The complex four-cam engine, designed by Ernst Fuhrman, made 135 horsepower and took 120 hours to assemble, with eight of those needed just for setting the timing. A factory team car, this 550a took second in class and fifth overall in the 1958 24 Hours of Le Mans and won its class in the 1,000 Km Nürburgring.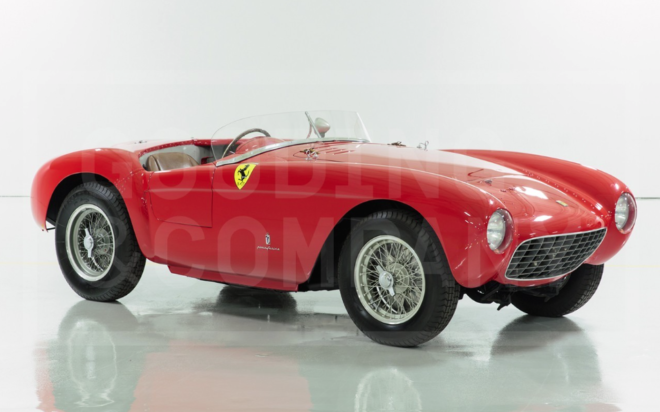 Although Ferrari from its start became renowned for V12 engines, chief engineer Aurelio Lampredi also developed a 2-liter inline 4-cylinder engine that dominated Grand Prix racing in 1952 and 1953. Then, in the marque's lightweight "barchettas," the engine also made for highly competitive sports racers. This Pinin Farina-bodied car is one of the 30 original 500 Mondials produced from 1953 to 1955. It retains its original tipo 110 2-liter engine and much of its original Pininfarina coachwork.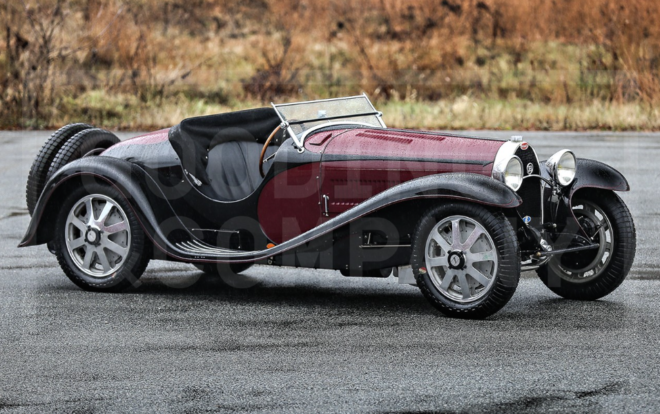 Bugatti made just 38 of its Type 55 from 1931-1936, and this was the first one. Ettore Bugatti's son, Jean, designed the beautiful roadster body, which would be used on 14 of the Type 55 models built. The 2.3-liter, supercharged inline 8-cyinder engine made 135 horsepower, which was quite a lot for an 1,800-pound car. The chassis came from the Type 45 and Type 47 Grand Prix cars. This was the only Type 55 completed in 1931 and served as the prototype. The Type 55 could exceed 110 mph.
After tearing up tracks with the original AC Cobra, which used a Shelby-modified Ford small-block V8, Shelby, working with Ford, designed a new, wider chassis with coil springs to accommodate the Ford 427 cubic-inch "side oiler" V8. That was the engine that powered the GT40 to its 1966 Le Mans 1-2-3 sweep. The Cobra body grew "muscles" in the form of fender bulges to accommodate the wider track and larger tires. When Shelby was unable to build enough Cobra 427 Competition models for FIA homologation, 34 were completed as 427 S/C (Semi-Competition) models. This 427 S/C had four owners from new and was restored by noted Cobra expert Mike McCluskey.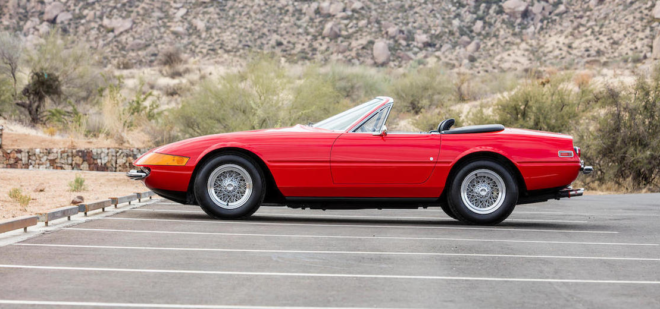 It should be no surprise that this Daytona Spider sold right in between its pre-sale estimate. Just 122 were built through 1973, and they rarely come up in auctions. The last one, according to Hagerty, was sold at RM's Monterey sale in 2016 for $2.365 million. The Daytona Spider was, like the 250 California Spider, a no-compromise sports car that happened to look stunningly beautiful. And this would be the last V12 roadster from Ferrari until the 2001 550 Barchetta. The U.S. spec Daytona's 4.4-liter V12 gave 342 horsepower and 314 lb-ft of torque, just as tad less than the higher-compression European model.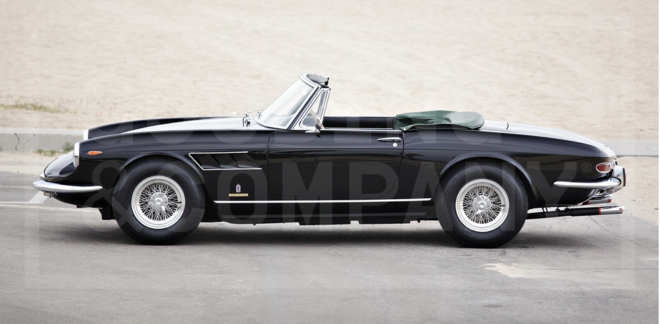 The 330 GTS, which succeeded the 275 GTS, shared its design with the 330 GTC coupe. Both used a 4-liter, 300 horsepower V12 and featured fully independent suspension. Just 99 of the open model were made. This one has been in collections all over the world, getting a color change some time after 1994, from its original Rosso Cina (China Red) to black with green leather upholstery. According to Hagerty, the car's original family purchased it for $100k above its pre-sale estimate. For some historical perspective, consider that when a family member sold it in 1976, the price was just under $11,923 –about a $3,000 drop from new.
Barrett-Jackson's charity auctions have surpassed $100m, and this 2017 Ford GT, donated by collector Ron Pratte, helped push them to that mark. This GT (#0023) has only 11 miles. Proceeds are going to Autism Society of North Carolina's IGNITE program. Powered by a 647-horsepower, 3.5-liter twin-turbo V6 and equipped with a 7-speed dual-clutch transmission, the Ford GT is more racecar for the road, capable of a 216-mph top speed. The sale price was about five times the car's original MSRP.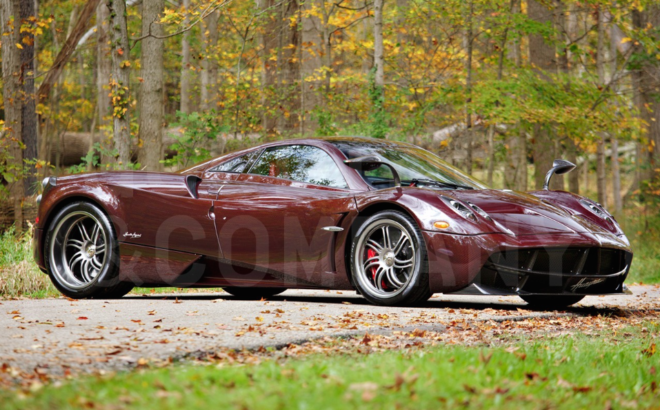 The Pagani Huayra is a mechanical work of art. It is one that was built to blur the scenery with a 230-mph top speed. Just 100 units were built from 2012-2015, all powered by a 6.0-liter Mercedes-AMG twin-turbo V12 built to Pagani's specifications and making 720 horsepower. Top Gear magazine named the Huayra "The Hypercar of the Year 2012." This Huayra, #87, is a U.S.-production model delivered new to Greenwich, Connecticut. The seller stated it was the only one finished in Carbonio Rosso fully exposed carbon fiber.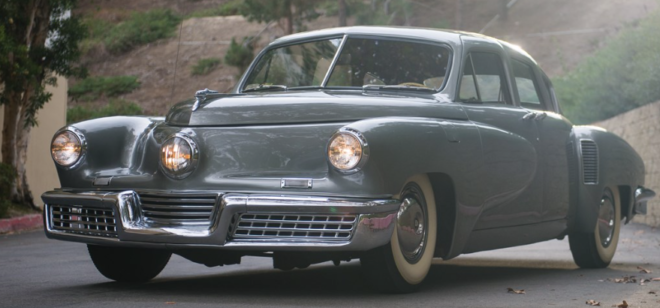 Can you believe it's been 30 years since the movie "Tucker: The Man and His Dream" starring Jeff Bridges as the hapless entrepreneur? This car, one of 22 original Tuckers featured in the film, was the founder's personal car for seven years. It can be seen in Preston Tucker's home movies. The second owner was Winthrop Rockefeller, younger brother of Nelson Rockefeller and governor of Arkansas from 1967-1971.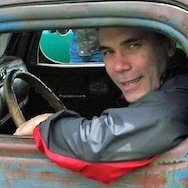 Written by Jim Koscs, Audamotive Communications
For Premier Financial Services