$18m Ferrari California Spider leads the pack.
The aptly named "ICONS" sale by RM Sotheby's in New York on December 6 brought $45.5 million for 27 cars sold. All could easily be considered iconic machines of their time periods, from modern hypercars to a vintage VW microbus. Among the 11 that broke the million-dollar mark, two stood high above the rest: an open-headlight 1959 Ferrari 250 GT LWB California Spider Competizione with racing provenance sold above its $14m-$17m estimate at $17.99 million. A 1952 Jaguar C Type with Phil Hill provenance brought just under $5.3m.
The $18m Ferrari was the second of eight aluminium-bodied California Spiders made. The car, a full competizione model, took 5th overall in the 1959 24 Hours of Le Mans, driven by New Yorker Bob Grossman. It had been maintained in its concours-level 1983 restoration condition and is Classiche Certified by Ferrari.
ICONS was also a place to pick up a brand new car, in this case, the first U.S. market Bugatti Chiron, which sold for just under $3.8m. The buyer was indeed the car's first owner, which will no doubt pay dividends for future resale. The Bugatti had only its 250 factory test miles. The new owner of this 1,500-horsepower, 261-mph road warrior will also enjoy a personalized, visit to the Bugatti factory in Molsheim, France complete with lunch, a factory tour, and a test drive with a noted test driver.
Something for Everybody
The expertly curated collection of automotive icons spanned the gamut of purpose and styles. Also from the classic sports car era, a 1958 Mercedes-Benz 300 SL Roadster – the final car restored by noted SL expert Rudi Koniczek in Victoria, British Columbia – sold for just over $1.4m, slightly ahead of a 1955 Gullwing that garnered $1.35m. A 1965 Aston Martin DB5 convertible, one of 40 left-hand-drive models built, sold for $2.7m.
In the realm of bespoke and super-special, the one-of-a-kind 1952 Chrysler D'Elegance, designed by Virgil Exner and built by Ghia, sold for $885,000 against a pre-sale estimate of $990k-$1.1m. A 1948 Cadillac Series 62 convertible bodied by Saoutchik sold for $857,000.
Those wishing to channel Sonny Crocket had a shot at a 1989 Ferrari Testarossa showing just 585 original miles. It's unknown of the buyer who scooped it up for $246,400 was a fan of "Miami Vice" and pastel suits. Other Ferrari icons sold included a 1990 F40 for $1.24m and a 2016 F12TdF for $1.1m. Several other Prancing Horses, including a La Ferrari, did not sell.
On the Lamborghini front, a 1989 Countach 25th Anniversary with 9,300 miles brought slightly more than the Testarossa, at $269,000. And, just as Lamborghini introduced its new Urus SUV, an original 1990 "Rambo Lambo" LM002, one of 60 U.S. delivery models, sold for $467,000. The buyer was getting the benefit of a 5-year restoration that cost a claimed $325,000.
A somewhat more accessible Italian racer, a 1992 Lancia Delta HF Integrale Evoluzione "Giallo Ferrari" edition, set an auction record for this model at $190,400.
From Iconic to Ironic
In the 1960s, real hippies and weekend hippies bought used VW buses for a few hundred bucks and drove them to San Francisco or Woodstock – or, at least that's what the songs tell us. VW even celebrated that history with a recent TV spot featuring one of its vintage people movers. The TV bus was not, however, one of the uber-desirable 23-window Samba models, like the 1960 model sold at the ICONS auction for $207,200. That works out to $5,180 for each of its engine's 40 horses.
In 1976, a VW bus owner named Steve Jobs sold his fine German machine to help finance production of his first computer, the Apple 1. It proved to be a good investment. Later in life, Jobs stuck with German automobiles, among those a 2000 BMW Z8, which he owned for three years. The car included the original optional BMW-branded Motorola Startac cell phone, the world's first clamshell flip-phone.
The BMW's second owner later sold it and bought it back, and then let it go at the ICONS auction for $329,500. As for the Apple 1, in 2013 Christie's sold one of the 575 made for $390,000. The original price was $666.
SaveSave
SaveSave
SaveSave
SaveSave
SaveSave
SaveSave
SaveSave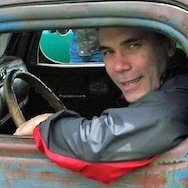 Written by Jim Koscs, Audamotive Communications
For Premier Financial Services
Save
SaveSave
SaveSave
SaveSave
SaveSave
SaveSave
SaveSave
SaveSave
SaveSave
Save</sp