Iconic Racecar with Phil Hill Provenance.
Jaguar broke new ground with the 1948 XK120, a sports car easily capable of exceeding 120 mph, a feat for which it was named. The XK120 was the fastest production car in the world at the time and set numerous speed records. When three modified alloy-bodied XK120s made an impressive showing in the 1950 24 Hours of Le Mans. In addition, Jaguar head Sir William Lyons decided to go all in for 1951. Jaguar created the XK120 C, later known as the C-Type, for that purpose. Fifty-three were made, with 43 sold to private owners.
The C-Type is an ideal example of an automotive icon, hence the inclusion of a 1952 version in RM|Sotheby's "Icons" auction scheduled for December 6 in New York. Further, this particular example, chassis XKC 007, is the seventh of 53 cars in the chassis number sequence and has the ninth body constructed. Its provenance includes SCCA racing history in the hands of the legendary Phil Hill. The pre-sale estimate is $5.5-$7m.
Designed to Win Le Mans
The "C" in Jaguar's XK120 C stood for competition, and the C-Type put Jaguar in the top tier of sports car makers by winning the 24 Hours of Le Mans twice, in 1951 and 1953. When Peter Walker and Peter Whitehead took the overall victory in 1951, it was the first British car to win Le Mans in nearly 20 years.
The C-Type shared its basic engine with the XK120, but Jaguar engineer William Heynes designed a tubular chassis. Additionally, Malcolm Sayer designed the aerodynamic open body, which was crafted from aluminum. In pursuit of function, the C-Type emerged as one of the prettiest racecars ever seen, with Jaguar's classic elliptical grille ensuring instant identification. The small, frameless windshield offered minimal wind protection, and there was no rollbar. Imagine racing that for hours at a time.
The C-Type's 3.4-liter XK inline-six engine was modified for racing with a new cylinder head, high-lift camshafts, special pistons, and an un-muffled dual exhaust system. The resulting 200+ horsepower was about 50 more than a standard XK engine. This gives it the sleek, 2,100-pound C-Type a top speed of 140 mph.
Winning Le Mans, Twice
The C-Type won Le Mans easily, finishing 77 miles ahead of the second-place Talbot-Lago and setting the following records: fastest lap speed of 105.232 mph, 24-hour speed record of 93.495 mph, and greatest distance traveled in 24 hours at 2,243.886 miles.
Mechanical problems kept the trio of C-Types from finishing the 1952 Le Mans. However, the revised C-Types took first, second and fourth in 1953. Duncan Hamilton and Tony Rolt won the race with an average speed of 105.85 mph. This makes it the first Le Mans winner to average over 100 mph. The 1953 C-Types had been lightened and had three Weber carburetors in place of the previous SU units. In addition, it had disc brakes front and back. At the RM|Sotheby's Monterey auction in 2015, the 4th place finisher, XKC 052, sold for $13.2m.
Iconic Jaguar, Iconic Driver
The C-Type consigned to the RM|Sotheby's Icons auction this week, XKC007, was built in late June 1952 and shipped to Charles Hornburg's Jaguar dealership in West Los Angeles. Hornburg was the Jaguar importer in the U.S., starting in 1947. (The dealership still exists, part of Pendragon North America Automotive.)
Believed to be the first C-Type to arrive in the U.S., the car was held by Hornburg for competition and promotional purposes. In addition, it was lent to legendary driver Phil Hill for several races. Derek Hill recalls that his father drove the C-Type from California to Wisconsin to race in the Sheldon Cup at Elkhart Lake. He won the race, and later drove back to Los Angeles. It was the first win by a C-Type in the U.S. Hill also won at Torrey Pines in mid-December.
Fully Documented
XKC 007 passed through numerous caring owners afterward and raced through 1955. As would be expected of such an important car, this C-Type comes with a fully documented history of its competition and ownership. This includes a full concours restoration in the late 1980s by Jaguar specialist Terry Larson of Mesa, Arizona. XKC 007, which won its class at the 1996 Pebble Beach Concours d' Elegance. That is, among other awards, and ideal for vintage driving events.
SaveSaveSaveSaveSaveSaveSaveSaveSaveSaveSaveSaveSaveSave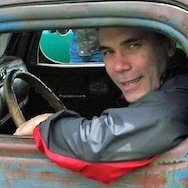 Written by Jim Koscs, Audamotive Communications
For Premier Financial Services
Save
SaveSaveSaveSaveSaveSaveSaveSaveSaveSaveSaveSaveSaveSaveSaveSaveSave