Building "the American Version of Goodwood"
Just a few miles from the site where the legendary Woodstock Music and Art Fair took place in August 1969, a very different kind of revival is happening annually. The second annual Art In Motion, a weekend event combining a racecar concours and a sports car concours d'elegance and driving activities, occurred in early October at the exclusive Monticello Motor Club in New York's Catskills Mountains, just 90 minutes northwest of New York City. Plans are starting for next year's edition.
According to AIM Event Director Kim Barnes, AIM was designed to be "an American version of Goodwood". This is in reference to the popular Goodwood Festival of Speed and Goodwood Revival events in England. Further, Barnes, a sports car collector, emphasized that the AIM will keep its focus on racecars and pure sports cars, and that driving on the private club's 4.1-mile track will remain integral to the activities.
"We wanted to create an experience, not just a car show," Barnes said.
"Stop, Children, What's That Sound?"
Instead of the sounds of Jimi Hendrix , The Who, Santana and other rock legends reverberating through the Catskills, it was the roar of classic racecars around the Monticello Motor Club Track. The stars included the 1973 Sunoco-sponsored Porsche 917/30 that helped Mark Donohue capture his 1973 Can-Am championship; the 1990 Chevrolet Beretta that Tommy Kendall drove to his first of four driver's championships in the SCCA Trans-Am series; a 1968 NART L-88 Corvette; a 1964 Cheetah; Porsche 962; a March Can-Am; a 1948 Talbot; Dan Gurney's 1967 Eagle Indy racer and many others.
The Beretta is owned and was restored by noted racer and collector Bruce Canepa. He had several cars in the event. Kendall had a reunion with the Beretta after more than 25 year. Further, it was joined at AIM by racers Danny Sullivan and Brian Redman, who helped design the Monticello track. Wayne Carini, car collector and host of the Velocity Channel's "Chasing Classic Cars," was also a guest.
"By the Time We Got to Woodstock"
Before the track driving and concours events, participants enjoyed a "spirited drive" through the Catskills region to Bethel Woods Center for the Arts. It is a world-class performing arts center built on the farm that hosted the original Woodstock festival. The center also hosts a museum that includes a main exhibit, "Woodstock and the Sixties" with a growing collection of artifacts and interactive exhibits.
"Many of the owners are from that demographic and so they really enjoyed it," said Barnes.
The Friday evening dinner at the Center included groovy five-star dining and live entertainment in the room of windows overlooking the Catskill Mountains.
The Main Event
Saturday's racecar concours featured rare and championship-winning vehicles, including cars from the Bruce Canepa collection, as well as cars owned by Sergio de la Vega. In addition, many of the racecars first showed their mettle on the club's track. The Best In Show award went to the 1973 Porsche 917/30 owned by Robert Kauffman.
Sunday's sports car concours featured multiple classes, including Great Britain, Italy, Japan and USA, as well as individual marque classes, Mercedes-Benz, Porsche, Ferrari and Supercars. However, BMW was this year's featured marque. Best in Show went to a 1949 Alfa Romeo 6C 2500 SS Cabriolet by Pininfarina, owned by South Florida collector Leo Schigiel.
The sports car concours also featured the 1956 Ferrari Europa GT, 1958 BMW 507, 1959 Scaglietti Corvette (one of three made), 1960 Mercedes 300 SL, 1987 Porsche 959 and 2016 McLaren P1 GTR, among others.
The weekend offered family-friendly activities, including the CXC Racing Simulator Experience, and Polaris RZR Off-Road Experience. Plus, karting, and hot laps in BMW M cars with pro drivers. Further, Gooding & Company conducted a private auction of memorabilia, including a Craig Booth sculpture of the 1947 #10 Schoof's Racing Indy racer, which was displayed next to the real car inside the Monticello Motor Club Collector Car Gallery.
In addition, funds raised from the auction and hot laps benefitted multiple charities. Including the Juvenile Diabetes Research Foundation, Bethel Woods Center for the Arts and Sullivan County SPCA.
Planning for 2018
The combination of autumn beauty in the Catskills, a weekend of the world's greatest racing and sports cars and the spirit of Woodstock is hard to beat. Tickets to AIM range from $125-$500 per day and include all meals, activity access and more. Attendance is by invitation to Monticello Motor Club members, as well as members of select car clubs. For more information, visit artinmotionmmc.com.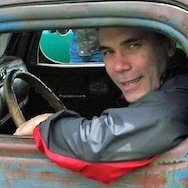 Written by Jim Koscs,  Audamotive Communications
For Premier Financial ServicesSaveSaveSave