Ferrari Lays out Plans for Growth and Profits.
It doesn't seem like all that long ago when Sergio Marchionne, the CEO of most Italian car makers plus Chrysler, emphatically said Ferrari would not build an SUV. But that was eons ago in 2014. This Bloomberg headline appeared on August 1: "Ferrari Wants 'Utility Vehicle' in a Plan to Double Profit."
The headline was a shocker to some Ferraristi, except perhaps those who understand that Ferrari's mission, like that of all automakers, is to make money. Meanwhile, those hoping to see a new "entry" Ferrari Dino slipped under the California's replacement, the new Portofino, will have to wait until the first quarter of next year for a "yay" or "nay."
Under Marchionne, Ferrari has abandoned his predecessor's self-imposed production limit of 7,000 cars a year and will make about 8,400 this year and 9,000 in 2018. From there, volume could exceed 15,000 a year after 2021. The Bloomberg report suggested that 2,000 of those new "utility vehicles" could be sold in Asian markets.
How do You Say "Segment Buster" in Italian?
Bentley's got an SUV. Lamborghini will introduce a new one next year, and Aston Martin will follow in 2019. Rolls-Royce will soon debut an "all-terrain, high-sided vehicle." (That's Rolls code for either SUV or food truck.)
Ferrari has been testing the "utility" realm gingerly, first issuing the quasi-hatchback FF and then updating it as the GTC4Lusso, in both V12 and turbo V8 variants. Bloomberg, quoting "people familiar with the matter" said Ferrari is considering a "utility vehicle" with more room than the four-seat GTC4Lusso, and with either two or four doors.
Ferrari's stock rose on the news, which also revealed that the company would offer more hybrid models. It'll have to, since pushing past the 10,000-vehicle production number will expose Ferrari to stricter fuel economy regulations.
Ferrari, according to the Bloomberg report, would attempt to position its "utility vehicle" as something all-new. Former Chrysler boss Bob Lutz might have called it a "segment buster". So, don't expect it to look like a high-riding SUV when it arrives. Perhaps Marchionne will drive off into the sunset in one, since that's going to be his last year as Ferrari CEO.
Dancing Around Dino
It doesn't take too much stretch of imagination to see the eventual Ferrari "utility vehicle" positioned as a high-end model. That's where the big money is. Probably for that reason, Marchionne back-pedaled on a statement he'd made some years ago, that a new Dino entry model was a definite.
In August, Marchionne told Automotive News that Ferrari management is split over whether to offer such a car. For one thing, Ferrari is having no trouble selling all the $200,000+ "entry" models already in the portfolio, and those are usually heavily optioned to even higher out-the-door prices. There's no business case for adding a less expensive car, and thus no reason to go through the hassle of building a $150,000 car that's bound to be less profitable than current models.
Secondly, according to Marchionne, there's no need to add a $150,000 Ferrari to attract younger customers, especially in Asian markets.
Sentimentality is not Profitable
It took a long time for Ferrari purists to accept the original Dino 206 and 246 models as "real" Ferraris. The loudest cheering for a new Dino seems to come from automotive media. Who would no doubt love to put an "AFFORADBLE FERRARI!" headline in their magazines and blogs.
There are other risks for a new entry V6-powered Ferrari priced under the Portofino. Diluting the brand image is one. Facing $150,000 Porsche 911 Turbos, $100,000 Jaguar F-TYPE R's, and $80,000 Corvette ZO6's in comparison tests is another. In this category, ego is king.
Marchionne, by the way, still says no to Ferrari EVs, citing engine sound as crucial to the Ferrari ownership experience. But remember, he'll be gone after 2021, and the market will have plenty of very fast EVs from other sports car makers driving around. Never say never.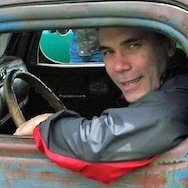 Written by Jim Koscs,  Audamotive Communications
For Premier Financial ServicesSaveSaveSaveSaveSaveSaveSaveSaveSaveSaveSaveSaveSaveSaveSave