An Icon, in Stunningly Original Condition.
Remember the classified ads in Car & Driver and Road & Track? Not a month went by when you wouldn't find several Shelby Cobras on offer. Further, all of them genuine, and some of them with racing histories.
One Cobra advertised in Car & Driver (twice) but was not sold was CSX 2344. A 1964 edition known as the "289" model that preceded the fat-fendered big-block models. The Princess Blue car was originally delivered to Warren Wooten Ford of Cocoa, Florida and sold new to Robert Lindauer Sr. on 24 July 1964. Lindauer, a NASA engineer, traded in a 1963 Corvette.
The Cobra remained with the Lindauers ever since, gathering just 15,500 miles. Undoubtedly one of the most original Cobras in the world, this is a time machine. It is being offered at the RM/Sothebys Monterey auction with a pre-sale estimate of $1.2-$1.4 million.
RM/Sothebys sold the first Cobra built, CSX 2000, for a staggering $13.75 million at its 2016 Monterey auction.
The Mecum auction at Monterey is offering CSX 2588, the second-to-last 289 Cobra built and the last sold to a customer. Carroll Shelby kept the final one built, CSX 2589, which was built with an automatic transmission.
Fewer than 1,000 Built
While today you cannot go to a Cars & Coffee without bumping a into "Cobra," it is more than likely than not to be a replica. From 1962-1967, just 998 Cobras were made. This includes 655 "289" models and 343 "427" versions with a wider chassis, coil-spring suspension and Ford's big-block V-8 engine.
Today, there are tens of thousands of "Cobras" snaking along the world's roads, the result of a thriving kit-car industry and various continuation series produced by AC Cars and Shelby. It is quite a treat to see a real Cobra up close, and in the condition of the Lindauer Cobra.
A Familiar Story
The Cobra story has been told thousands of times. Le Mans-winning racer Carroll Shelby, seeking a project after an attempt to sell Scaglietti-bodied 1960 Corvettes ended with just three built, found a small British roadster that seemed to be begging for more power, the AC Ace. The design was based on a special created by John Tojeiro in the 1950s, which AC adapted and which had borrowed design cues from a Ferrari 166S Barchetta.
The Ace at first used a Bristol inline-six (descended from a pre-war BMW engine), and then switched to a British Ford Zephyr 2.6-liter inline-six. The car needed just a few modifications to accept the new, compact and lightweight V-8 Ford had introduced for its midsize Fairlane model in the U.S. for 1962.
The Ford V-8 fit like a charm and turned the 2,000-pound Ace into something fierce: Shelby called it the Cobra. The chassis, with transverse leaf springs front and rear, was a bit antiquated, but the Cobra proved a demon on road and track.
After 75 were built with the 260 cubic-inch displacement version of the engine, Shelby began installing the more powerful 289 cubic-inch high-performance version. Additionally, with a better steering system from the MGB.
Carroll Shelby and the Cobra
Shelby's success with the Cobra fit right into Ford's "Total Performance" racing and marketing program, and soon Shelby was building his legendary GT350 and GT500 Mustangs and managing Ford's Le Mans effort. The lithe 289 Cobra morphed into the widened "427" model in 1965 with Ford's big-block V-8, and this model became the template for most of the replicars that followed.
(Shelby also found another British roadster to "Fordify," the Sunbeam Alpine, which he tagged the Tiger – another story.)
A Pampered Cobra
Not many of those 998 Cobras built led the kind of life Lindauer's car did. It racked up 4,000 miles in its first month of ownership, including a trip to the 1964 World's Fair in New York. This is where the Mustang was introduced. However, that was the last time the car would leave Florida for nearly 40 years.
Lindauer advsertised his Cobra for sale in Car & Driver in 1965 and again in 1969, but ultimately kept it. The car sustained some cosmetic damage from a minor accident in 1970 and was repaired with correct Shelby-supplied parts.
The Cobra went into climate-controlled storage in 1974. In 2001, Lindauer died, and his son, Robert Lindauer Jr. assumed stewardship. He put it back on the road in 2010. Today, the car remains much as it did after leaving the factory in 1964. The thick file of documentation that accompanies the Cobra includes Lindauer's ticket from the 1964 World's Fair.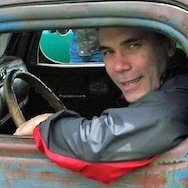 Written by Jim Koscs,  Audamotive Communications
For Premier Financial ServicesSaveSaveSaveSaveSaveSaveSaveSaveSaveSaveSaveSaveSaveSaveSave