Running with the Rat Pack.
If you were Hollywood royalty in the 1930s, you might have bought a coachbuilt Packard, Duesenberg or Rolls-Royce. Coachbuilding options were fewer three decades later, but Hollywood elite could still buy high design and handcrafted exclusivity with Italy's Ghia L 6.4, with just 26 built.
RM/Sotheby's will offer the first of those 26 next month. Further, one that is said to have been owned by actor Peter Lawford from 1960-1963. It's also one of a handful that received modifications by the legendary car customizer George Barris. Most notably, Cibie headlights that replaced the round units and gave the Ghia a more exotic visage. These became known as the "Rat Pack" models as they were delivered to Frank Sinatra, Dean Martin, Lawford and other entertainers.
The pre-sale estimate from RM/Sothebys is $300,000 – $375,000. The auction house sold a 1962 Ghia L 6.4 model for $577,500 at last year's Monterey auction.
Trans-Atlantic Partnership
The Ghia L 6.4 is sometimes mistakenly referred to as a Dual-Ghia, because the car was a successor to the 1956-1958 model of that name and was conceptually similar. The difference was in where and how the cars were built. Both were for a while known as "hybrids" for their blend of European coachbuilding and American mechanicals. Also, both cars had Ghia, Chrysler and an American trucking magnate in common.
Carrozzeria Ghia began a relationship with Chrysler in the early 1950s. He began by turning out a number of stunning concept cars designed by Chrysler's head of design, Virgil Exner. (One, the 1956 Norseman, sits at the bottom of the Atlantic Ocean off of Nantucket. That is to say, aboard the Italian ocean liner Andrea Doria, which sank on July 25, 1956. This was after a collision with the Swedish liner Stockholm, with 46 lives lost.)
Trucking Mogul Casaroll
The early 1950s Firearrow series, built on Dodge chassis, culminated in the Firearrow IV, which was essentially a production-ready prototype. Enter one Eugene Casaroll. An American trucking mogul, Casaroll had manufactured two-engine heavy transport trucks for the military in WWII, hence naming his company Dual-Motors. Casaroll had also addressed a transportation problem for U.S. carmakers after WWII by manufacturing long-distance car haulers that could handle up to 10 cars at a time.
Through his relationship with Chrysler, Casaroll purchased the rights to build the Firearrow IV, which Ghia tastefully restyled as the distastefully renamed Firebomb for 1955. The car went into limited production as the Dual-Ghia. Predating a similar construction method used by the later Cadillac Allante, Dual-Motors shipped Dodge chassis to Ghia, which shortened them to a trimmer 115-inch wheelbase. Ghia craftsmen hand-built the steel convertible body and the elegant leather-trimmed interior. Semi-finished cars were shipped back to the U.S. for installation of the Dodge 315 cu. in. Hemi V8 engine and automatic transmission and final assembly. Just 117 were made through 1958. The $7,700 price was about the same as the contemporary Cadillac Eldorado.
Ghia, the Sequel
After Dual-Ghia production ended, a high-finned 1958 Dual-Ghia 400 prototype was built, inspired by the Chrysler Dart concept car, but this remained a one-off. Ghia, however, using Chrysler's highly regarded powertrain, driveline and suspension components, created the L 6.4 for 1960. This time, it was a coupe, but still echoing some design elements from the Dual-Ghia. The Ghia L 6.4 design, in fact, is said to have received input from Exner, and Chrysler motifs of the period are evident.
Dual-Motors was the U.S. importer, but had no role in construction, and so the car was not badged a Dual-Ghia. The car's name, L 6.4, was for the Chrysler's robust and reliable 383 cu.-in. V8 rated at 325 horsepower. (The engine was actually a 6.3-liter unit, not 6.4 liters.) France's Facel Vega also used this engine.
The Ghia L 6.4 was fully equipped with luxuries of the period, including power steering, power brakes, power windows (including vent windows), Chrysler TorqueFlite automatic transmission, a radio and heater. Chrysler AirTemp air conditioning and leather luggage to matched to the interior were options.
The price was solidly in Ferrari territory at $13,500.
Rat Packer's Ride
The car offered by RM/Sothebys is chassis number 0302, the first production L 6.4 built and the second after the original prototype. This car is equipped with air conditioning.
After Lawford's stewardship, this Ghia L 6.4 was owned for several years by actor and car enthusiast, David Lawrence. The current owner acquired it in 2006 as an excellent original example that had been driven fewer than 40,000 miles. Additionally, the car underwent a just completed, thorough three-year restoration and won Best of France & Italy at the Palos Verdes Concours d'Elegance. The RM/Sothebys Monterey auction is the first time it will be offered for public sale.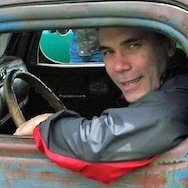 Written by Jim Koscs,  Audamotive Communications
For Premier Financial ServicesSaveSaveSaveSaveSaveSave