The Meditative State of Driving an Old Sports Car.
Last month in Scottsdale, Arizona, a restored 1958 Alfa Romeo Giulietta Spider Veloce sold for $176,000 at the Bonhams auction in Scottsdale (including premium). Think about that: $176k can still buy a 40-year-newer Ferrari 550 Maranello, or a brand new Porsche 911 Turbo with a smattering of options. For that money, traditionalists could buy one Mazda Miata or its Italian cousin, the Fiat 124 Spider, for each day of the week.
It's no wonder that owners of Giulietta and Giulia Spiders are increasingly faced with the temptation of selling their prized roadsters, many of which were used for years as fun drivers, not trailer queens. Rising values, however, make extensive (and expensive) restorations more economically feasible. Keith Martin, publisher of Sports Car Market, earlier this week wrote about investing $130,000 in the 1965 Giulia Spider Veloce he has owned for many years.
Ask a Giulietta or Giulia owner why they love their cars, though, and you discover true affection, not just car lust.
Postwar Sports Car Boom
With the 1900 model of 1950 and then the Giulietta series of sedans and coupes four years later, Alfa Romeo completed the switch from pre-war maker of boutique luxury and sports models to a volume producer. The company found a ready market for affordable Italian cars with the kind of verve lacking in, well, just about everything else in that price class. BMW was, at that point, a decade or so away from offering such cars in volume.
The jewel of the line was the Pininfarina-designed and built 1955 Giulietta Spider, which put Alfa Romeo right at the heart of the postwar sports car boom. Its double overhead-cam 1300cc engine, which seemed exotic at the time, made just 80 horsepower in Normale tune or 90 hp in twin-carburetor Veloce form, which proved enough for fun in such a light and balanced car.
Car & Driver put it succinctly: "The Alfa, in a few words then, is a small car with a rev-happy DOHC engine that can carry two people from point A to point B over all types of roads quicker than most cars twice its size. It does this not with blinding speed but with a wonderful combination of roadholding, compact size and sheer willingness."
The Giulietta Matures
The Giulietta Spider became the Giulia Spider in a comprehensive 1962 update, with a 1.6-liter engine, 5-speed transmission and revised styling. The 5-speed was a big deal in that period, and today, it helps make the spirited Giulia a great candidate for long-distance rallies.
Mitch Katz can certainly vouch for that. The CEO of Premier Financial Services, Katz has owned his 1965 Giulia Spider Veloce twice. And he would agree with Car & Driver's assessment from decades ago.
Katz bought his Giulia Spider in May 2004, finding it just two miles from Premier's office in Woodbury, Conn.
"The earlier Giulietta is a wonderful car and eligible for more events, but it's a bit more 'high-strung' with the 1.3-liter engine and 4-speed transmission," said Katz. "Mine has a little more of a relaxed drive, especially with the 5-speed with overdrive. It's more comfortable for touring, which I've done quite a bit of."
Katz has driven his Giulia Spider in about 10 events, including the Colorado Grand, New England 1000 and Montana's Going to the Sun Rally. An engine rebuild about 10 years ago, with pistons from Alfa's 1750 engine, gave the Giulia more oomph.
"It's a fabulous driving car," he said.
But It Nearly Got Away
At the end of 2015, Katz got the bug for a modern sports car.
"I was thinking of getting something I could drive more frequently," he said.
He sold the Alfa to a dealer friend in California and bought a 2014 Porsche Boxster S. His friend, anticipating seller's remorse even before the Alfa was loaded onto the transport truck, offered a safety net.
"We had an agreement that if I really regretted it, I could have the car back," Katz said.
Meanwhile, he put 800 miles on the Boxster S in six weeks.
"They're really great cars," he said. "But one day I realized, it's like having another daily driver. It's got power windows, power top and Bluetooth. It does everything it's supposed to do every time you get in it."
That, of course, is the secret formula for making a sports car successful today. But can a car be too good?
"I missed the meditative state of driving an old car, with no radio, no electronics," Katz said. "It's just you and the road and whatever adventure comes upon you on any given day."
He clicked to his friend's website, and the Alfa was still there.
"I didn't take another 10 minutes to call him and arrange to have it shipped back to me," said Katz. "Another week, another day, and it could have been sold."
The day of arrival, three months after the Alfa had left Connecticut, was a good day, indeed.
"I was never so happy to see it as the day it was back in my garage. I think of the experience as an expensive spa treatment – sending it to California and back, getting some service and a good cleaning."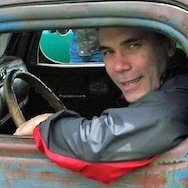 Written by Jim Koscs, Audamotive Communications
For Premier Financial Services
Save