Misunderstood supercar getting more respect.
Misunderstood for decades, the de Tomaso Pantera is getting its due from collectors. This month's Bonhams auction in Scottsdale will offer a 1972 Pantera with 21,000 miles and has posted a pre-auction estimate of $140,000-$180,000. The auction house sold a 1971 Pantera showing 12,000 miles at last year's Amelia Island auction for $112,000.
This one bears watching.
de Tomaso Desperado?
In the 1973 Eagles song "Desperado," Don Henley sang, "Don't you choose the queen of diamonds, boy, she'll beat you if she's able." The song was not about owning a Pantera, but those words could have been.
The Pantera was indeed a queen of diamonds, a sexy Italian-built supercar that inspired lust on first sight, but with an American Ford V8 under its rear hood that promised the possibility of something more lasting than a short fling. Alas, the Pantera proved to be a heartbreaker, and a bank-breaker for some. Yet, as Pantera loyalists well know, knowledge, patience and persistence (and money) have been known to temper this temptress' heat (quite literally) and offer the chance of a long-lasting relationship.
Strange Bedfellows
The semi-exotic Pantera that sold in the United States from 1971-1974 had sprung from a somewhat convoluted collaboration between Ford and the Italy-based former Argentine race driver-turned-carmaker, Alejandro de Tomaso. By the mid-1960s, the entrepreneurial de Tomaso had acquired the famous Carrozzeria Ghia and Carrozzeria Vignale design and coachbuilders and was using a Ford small-block V8 in the beautiful but problematic Mangusta sports car.
Ford, whose GT-40 racecars had won the 24 Hours of Le Mans race four years in a row (1966-1969), was looking to keep the fire going on the street and forged a deal with de Tomaso to develop the Mangusta's successor, called the Pantera (Italian for panther). An international concoction, the Pantera blended Italian mid-engine chassis engineering and Ghia design with a U.S.-built Ford 351 "Cleveland" V8 and German 5-speed ZF transmission, plus other parts sourced from European suppliers.
The "Italian" design, however, came from the creative pen of Detroit-born Tom Tjaarda, who worked for Ghia, and who had designed, among others, the 1963 Corvette Rondine one-off and the Fiat 124 Spider. Talent ran in the family; his father, John Tjaarda, had designed a landmark Ford product, the 1936 Lincoln Zephyr.
Perhaps the oddest player in this strange brew was Ford's Lincoln-Mercury franchise, which got the nod to sell the de Tomaso Pantera alongside another "captive import" the far more affordable and popular German-built Capri sports coupe. Of course, Mercury had adopted "At the Sign of the Cat" as its tagline in the '70s (inspired by its own Cougar), so a panther sort of fit in. Mercury dealer service departments were left aghast at the mechanical issues the Pantera presented.
Fast but Fickle
The Pantera arrived in dealerships in 1971 with a price of $11,000 — just about double that of a base Corvette. Engineering problems and serious quality-control lapses afflicted most aspects of the Pantera except the Ford engine.
But the Pantera sure was fast. The Ford 351 Cleveland V8 with 4-barrel carburetor was a very strong unit and put out a credible 310 gross horsepower (later rated at 266 net) and about 300 lb.-ft. net torque. That was a lot for the 3,100-pound Pantera. Car & Driver recorded zero-to-60 mph in 5.5 seconds and a 140+ mph top speed, putting it between the Corvette and Italian exotics from Ferrari, Maserati and Lamborghini. (In a top-speed test in 1973, Motor Trend coaxed a Pantera to 130.) Car & Driver praised the cornering ability but criticized the propensity for snap-oversteer.
Early cars were plagued by problems, including rust and overheating. Ford stepped in to make improvements, and in late 1972, a new "L" model (for Lusso) replaced the pretty but useless chrome bumperettes with black appendages and now rode about an inch higher to satisfy U.S. bumper regulations. The Bonhams auction car is a "pre-L" chrome bumper car.
Lincoln-Mercury dealers sold about 5,200 Panteras, making the U.S. by far the car's largest market. The short U.S. lifespan was always in the plan; the de Tomaso Pantera continued in Europe until 1991, growing more garish as de Tomaso tried imitating the Lamborghini Countach.
Many Pantera L owners retrofit the Euro bumperettes and remove the suspension spacers to lower their cars. They also make plenty of other modifications, mostly to make the Pantera reliable and safe to drive.
"What Ford didn't figure out, a network of owners clubs, specialists, and an expansive aftermarket has," said Colin Comer, writing about his own Pantera experiences in Road & Track in 2015.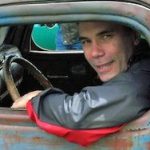 Written by Jim Koscs, Audamotive Communications
For Premier Financial Services
Save
Save
Save
Save
Save
Save
Save
Save
Save
Save