When Rambo Met Lambo.
This one comes straight form the automotive X Files. The 1986-1993 Lamborghini LM002 was likely ahead of its time as an outrageous, even semi-ridiculous desert runner for the road.
Known as the "Rambo Lambo" for monster proportions, monster looks and monster capability, the Lamborghini LM002, was a 6,600-pound, 4-wheel drive leviathan powered by a V12 and capable to traversing the Arabian Peninsula at very high speed – without a road. On Rodeo Drive, it was the ultimate status machine, able to frighten small children and make grown men swoon – and vice versa, too.
These beasts are still roaming the Earth, turning up at auctions for under $200k.
The Pentagon Was Involved
Some explanation is in order. Way back in the year of America's bicentennial, the U.S. Department of Defense was scouting for ideas for all-terrain vehicles that could take troops to hell and back. One defense contractor, Mobility Technology International, came up with a design it called the Cheetah and asked Lamborghini to build it. (Of course, that just makes so much sense!)
The Cheetah used a rear-mounted Chrysler V8 and proved to be an ill handler; the only prototype crashed. In the meantime, another contractor, FMC, noticed the striking resemblance to its own prototype, the XR311, and threatened to sue everyone involved. (As a side note, the XR311 eventually morphed into the HMMWV, better known as the Hum-Vee, which of course begat the Hummer.)
Lamborghini itself was on the verge of crashing, when Swiss brothers, Jean-Claude and Patrick Mimran, rode in to the rescue in 1980. They liked the idea of a vehicle that could possibly attract military dollars, which tend to be much bigger than civilian dollars. So the project continued with a front-mounted Lamborghini 5.2-liter V12, complete with six two-barrel Weber carburetors and making about 440 horsepower.
Range Rovers Ran and Hid
Built on a massive steel tube-frame and clothed in a fiberglass and aluminum body that looked like a, well, looked like nothing else on wheels, the LM002 weighed close to 7,000 pounds and seemed like an improbable proposition for any military. Imagine the service and cost issues. Well, come to think of it, maybe nobody at the Pentagon would have noticed.
Lamborghini did find an instant market for the LM002 among Middle East sheiks, who could easily afford the $120,000 price tag. Mind you, this was at a time (1987) when the Range Rover was the only luxury SUV, one with a $30,000 price and a little 144-hp V8 of early-1960s Buick origin.
Mad Max Machine
The Lamborghini LM002 was also an ideal vehicle for American sheiks to garner the prime valet parking spaces. Said Car & Driver in its October 1987 issue: "Never before in recent memory have we driven a vehicle that has turned as many heads, blown as many minds, freaked as many citizens, or been as much insane, outrageous fun as the Rambo Lambo."
Even though poseurs bought the Lamborghini LM002, the vehicle itself was the 100-percent real deal. The Rambo Lambo rode high on fully independent suspension and drove all four wheels via two-speed transfer case. You had to shift for yourself with a 5-speed stick, and when you engaged 4WD, you had to jump out and manually lock the front hubs. The engine bay was equipped with huge air filters to protect the V12 from desert sand and dust. Mad Max could have driven the LM002 straight into the apocalypse, taking along three friends in the leather-lined bucket seat cabin.
More Like Kato than Rambo
Yet, as Car &Driver found out, the Lamborghini moved with quickness closer to Bruce Lee than Rambo. It zoomed from zero to 60 in under 8 seconds and blazed the quarter-mile in 16 seconds flat at 86 mph, certainly quick enough to escape nomads who might be in hot pursuit.
Handling also impressed the magazine, which said, "The great brakes permit one to pile into corners at astoundingly high velocities. We were continually amazed by the alacrity of the Lambo under all highway conditions."
Car & Driver extolled the monster Lambo's off-road prowess, too: "As for the lumpy, off-road stuff, we repeatedly assaulted immense chuckholes and ditches at absurd speeds, bracing ourselves for a crash — which never came!"
Electrical quirks, sub-par air conditioning, a cheapo stereo, heavy steering and clutch and questionable workmanship did not deter the magazine from heaping praise. The 8-mpg fuel "economy" seemed a small sacrifice, too, as long as the 75-gallon fuel tank was topped off.
Lamborghini built 328 LM002s through 1993. If you're looking to inflict shock and awe on your neighborhood, even Lamborghini's upcoming SUV, the Urus, might quake in its tire treads in the presence of an LM002. Find one, and happy trails to you.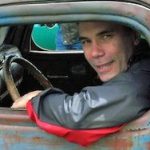 Written by Jim Koscs, Audamotive Communications
For Premier Financial Services
Save
Save
Save
Save
Save
Save
Save