Go ahead, call it a Ferrari.
Nearly five decades after their joint venture produced offspring, Ferrari was "spun off" from Fiat to raise cash for the latter. The resulting car, arguably one of the most beautiful Pininfarina designs and arguably one of Ferrari's best sports cars, carried only "Dino" badges from the factory. Many owners had Ferrari badges installed. However these cars evolved, make no mistake; they're Ferraris.
Ferrari lore has it that Enzo Ferrari had to be prodded into building the mid-engine car that became the Dino 206 GT, and even then, he insisted it not wear the Ferrari badge. Instead, a new sort-of sub-brand would be named for Enzo's son Alfredo "Dino" Ferrari, who had died in 1956 of muscular dystrophy at the age of 24. Dino had worked at Ferrari as an engineer, credited with pushing for the development of a family of V6 engines for F1 and sports racers. He didn't live to see them produced.
A Whole Bunch of Dinos
The Ferrari V6 family, known as the Dino, established a solid reputation in F1, F2 and sports car racing. The first cars to wear the Dino name, however, were the 1965 166p and 206P sports racers. Meanwhile, Pininfarina had begun developing a series of concept cars to suggest a mid-engine road model. Enzo needed to be persuaded.
And then, opportunity knocked. Enzo wanted to compete in the F2 for 1967, which limited engine cylinder count to six. Ferrari had its 65-degree V6 engine but entered an agreement with Fiat to produce it to meet F2's requirement for 500 production cars.
Fiat would use the new engine in its own sport coupe (designed and built by Bertone) and convertible models (designed and built by Pininfarina). These were called, appropriately enough, "Fiat Dino" and were beauties in their own right.
Ferrari would use the high-revving 2.0-liter V6 in a mid-engine car called, simply, Dino GT. In the Fiats and Ferrari — oops, "Dino GT" – the engine spec was the same, including triple Weber carburetors. Fiat claimed 160 horsepower, while Ferrari claimed 180.
"Almost a Ferrari"
The 1968 Dino 206 GT was a curvaceous Pininfarina stunner, which Ferrari's brochure touted as "small, quick, safe … almost a Ferrari." One can almost understand the old man's trepidation with diverging from the marque's proven front-engine V12 formula. Consider, too, that Lamborghini had recently introduced its mid-engine V12 Miura. How would it have looked to say Ferrari followed with a V6 middie?
Regardless of the badge or honesty of the horsepower rating, the automotive media and drivers loved the 2,800-pound Dino, but felt it needed more power. That it got the next year, with the Dino GT 246, now with a 2.4-liter iron-block engine and a claimed 195 ponies. ft. and 166 lb.-ft. of torque.
Scaglietti had built the Dino 206 GT bodies in aluminum, but only 150 or so. Production for the 246 GT shifted to steel for the bodies, and a 2.4-inch longer wheelbase added interior room. Not surprisingly, the steel bodies were more prone to rust (especially if you left a Dino buried in the backyard for a few decades).
Road and Screen
The Dino 246 GT was more of a Porsche 911 competitor (albeit much more expensive) than a rival to any Lamborghini or Maserati. Zero-to-60 took about eight seconds, and top speed could exceed 140 mph. The 45-inch tall Dino, though, was like a scalpel when operating on a curvy road. Some car enthusiasts may remember seeing the Dino 246 GT in "The Persuaders," a British-made TV drama starring Roger Moore and Tony Curtis. It aired only briefly in the U.S. in 1971.
Along Came a Spyder
Developed with the U.S. market in mind, the 246 GTS that arrived in 1972 had a Porsche Targa-like lift-off roof panel. The sacrifice for letting in the sunshine was losing the GT's pretty fastback roofline and rear quarter glass.
The famous "chairs and flares" package added 7.5-inch Campagnolo alloy wheels, wider wheel arches and seats like those in the Ferrari 365 GTB/4 "Daytona." Cars have been retrofitted with the package. By 1974, final year for the Dino 246, the U.S. price of a GTS exceeded $15,000. Production totaled about 2,300 246 GTs and just under 1,300 GTS models.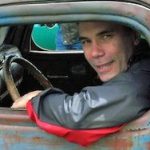 Written by Jim Koscs, Audamotive Communications
For Premier Financial Services