A New Holiday Tradition?
The closing of the F.A.O. Schwartz toy company flagship store on New York's Fifth Avenue this last summer ended – temporarily, we hope – one of the city's great holiday traditions. A visit to Manhattan in December was never complete without a visit to the store's amazing window displays. For a few days this month, at least, the public can stop in to see an incredible collection of big-kid toys, with names like Aston Martin, Bugatti, Ferrari, Lamborghini, Pegaso, Pierce-Arrow, Porsche and more of the world's elite marques.
The Disruptors: Offering Cars That Shook the Status Quo
RM Sotheby's, which introduced a curated, art gallery-type presentation for classic automobile auctions with its "Art of the Automobile" sale in November 2013, is holding a second themed sale on December 10 at Sotheby's New York (1334 York Avenue). Called "Driven by Disruption," this auction will present a stellar, curated collection of 31 vehicles selected for their impact within the auto world.
"The notion here is that each car represents something that was mold-breaking for its time, for its genre, for its performance or design," said RM Sotheby's Vice President Alain Squindo. "Each car is disruptive in nature," he added. While "disruptive" has become one of today's most misused marketing buzzwords, it certainly seems appropriate for this group of automobiles. Each car offered was certainly a "disruptor" in its time, in at least one of the ways Squindo described.
A thrilling holiday attraction for car buffs of all ages, the six-day exhibit of "Disruption" cars opens for public viewing in the Sotheby's 10th floor galleries on December 5. Anyone can stop by and dream and Premier Financial Services is prepared to assist in acquiring and leasing any of the cars on offer.
The Racer's Edge – The 1956 Ferrari 290 MM
There are a few notable disruptors from the world of motorsports, including the auction's projected top sale, with an estimate of $28-$32 million. It's the 1956 Ferrari 290 MM (chassis # 0626) factory team sports prototype that legendary racer Juan Manuel Fangio piloted to fourth place in the 1956 Mille Miglia race through Italy, which was run in torrential rain and hail. The "MM" stood for the race for which the car was designed to dominate. Eugenio Castellotti won the race in another of the four 290 MM's built, and Ferrari clinched the World Sportscar Championship that year. "It's an incredibly important car. It's unequivocally pure and stunning," said Squindo.
Also in 1956, another legendary driver, Stirling Moss, disrupted expectations when he drove a Mercedes-Benz 300SL Gullwing to second place in the Tour de France Automobile, a truly grueling multi-stage competition. This was one of four steel-body Gullwings specially prepared by the marque's competition department, although one would not call it an all-out racecar. It is estimated to bring $5-$7 million.
Another road racer with a pedigree, a 1962 Aston Martin DB4/GT Zagato was restored by marque specialist Richard Williams and has an estimate sale price of $15-$17m.
Luxury, Disrupted
Other consignments highlight diverse historical points in automotive luxury. The 1933 Pierce-Arrow Silver Arrow is a grand American sedan that predicted an aerodynamic design trend. One of five built, it is accepted as the one displayed as part of "A Century of Progress," at the Chicago World's Fair; it comes with a $3 million estimate. The 1955 Mercedes-Benz 300Sc coupe is one of 98 made that year, and the 1956 300Sc is one of just 43 built that year. These were the legitimate postwar successors to the legendary pre-war 500K and 540K.
Viewed through a child's eyes, one car in the "Driven by Disruption" exhibit seems like fantasy brought to life: the 1934 Delage D8 S Cabriolet designed by Howard "Dutch" Darrin and built by Fernandez. Can you see just Cruella de Vil at the wheel? It was restored and painted in a spectacular lilac by Stone Barn Auto Restoration in Vienna — that's Vienna, New Jersey!
Artistry on Wheels
There is artistry among the disruptors, including such design masterpieces as the 1938 Bugatti Type 57C Atalante; 1953 Chrysler Ghia Special coupe (one of 18 made); 1954 Siata 208S Spider; 1958 Ferrari 250 GT Series I cabriolet (the 14th of 40 made); 1959 BMW 507; 1969 De Tomaso Mangusta and 1972 Lamborghini Miura P400 SV.
"The process with only 31 cars is highly selective," said Squindo. "Some are one of a kind. In other cases, like the Mangusta, there are many that can be sourced, so we needed to ensure the one we had was the best we could find." (The auction catalog is itself is a work of art. If you're not attending the sale, be sure to download it.)
Oh Lord, Won't You Buy Me a Colorful Porsche?
Sure to be a crowd favorite is the 1964 Porsche 356C Cabriolet that blues-rock singer Janis Joplin bought used in 1968 and drove until her death in October 1970. The car was instantly recognizable by the colorful mural that her friend, Dave Richards, painted over its bathtub-shaped body.
The late rocker's siblings had the artwork covered in a subsequent repaint, but then a full restoration in the 1990s included a recreation of the mural, and the car went on display in the Rock and Roll Hall of Fame and Museum for the next 20 years. Joplin's colorful Porsche is estimated to fetch $400-$600k. "If the Janis Joplin Porsche doesn't define the theme of the sale, I can't imagine what would," said Squindo.
Premier, the Perfect Auction Partner
We hope to see you next week at the Driven By Disruption auction. Don't forget to review your auction basics here and be sure to contact Premier Financial Services if you will be bidding. Premier's Simple Lease is a perfect alternative to financing an exotic or vintage marque. Whether it is a classic Jaguar, vintage Ferrari, Porsche or Aston Martin, Premier can cater a lease to your driving needs.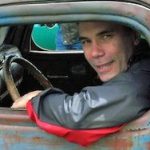 Written by Jim Koscs, Audamotive Communications
For Premier Financial Services