The 2012 Porsche 911 Carrera has been completely redesigned, but, according to the company, is holding true to the Porsche 911 Carrera 'evolution, not revolution' design philosophy.
The car features a 100 mm or 3.9 inch longer wheelbase and reduced overall height. It's new lightweight body is an aluminum-steel composite construction and has resulted in a 100-pound weight reduction when compared to the previous 911 body.
The interior reminiscent of the Carrera GT, and features a rising center console and high-mounted shift lever or gear selector located close to the steering wheel.
All 911 versions offer less fuel consumption and emissions – up to 16 percent lower in the New European Driving Cycle (NEDC) when compared with the predecessor – although the translation for U.S. standards is uncertain at this time. This is achieved through systems such as the Automatic Start Stop function, engine and transmission thermal management, electrical system recuperation, the world's first seven-speed manual transmission and – in conjunction with the Porsche Doppelkupplungsgetriebe (PDK) – the ability to 'sail' or coast. The new electro-mechanical power steering offers not only Porsche's typical precision and feedback but also helps increase efficiency and reduce fuel-consumption.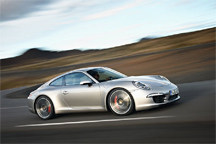 The 911 Carrera's new 350 hp, 3.4-liter boxer engine and optional PDK consumes 8.2 l/100 km based on the NEDC – 1.6 l/100 km less than its predecessor.
The 911 Carrera S with its 400 hp, 3.8-liter boxer engine – 15 hp more than before – achieves 8.7 l/100 km in the NEDC when paired with the optional PDK transmission. This represents a fuel consumption decrease of 14 percent or 1.5 l/100 km.
At the same time there are performance improvements in both models. The 911 Carrera S (400 hp, 3.8 liter boxer engine with PDK) accelerates from 0 to 60 in 4.1 seconds. Using the Launch Control function of the optional Sport Chrono Package cuts that to 3.9 seconds. The 911 Carrera (350 hp, 3.4 liter boxer engine) with PDK needs only 4.4 seconds to sprint from a standing start to 60 mph (4.2 seconds when using the optional Sport Chrono Package's Launch Control function). Top-track speed for the 911 Carrera S and 911 Carrera is 188 mph and 179 mph, respectively.
The first new 911 models will arrive in U.S. dealerships beginning February 2012. The new 911 Carrera Coupe will have a base MSRP of $82,100, while the 911 Carrera S Coupe's base MSRP will be $96,400 (excluding destination). Both models will include substantial additional equipment when compared to the previous models.
To find out more about leasing the Porsche 911 Carrera through Premier Financial Services, contact us toll free, 877.973.7700, or just fill out our convenient and secure Simple Lease Application.