Cars to Watch: RM Sotheby's Scottsdale 2017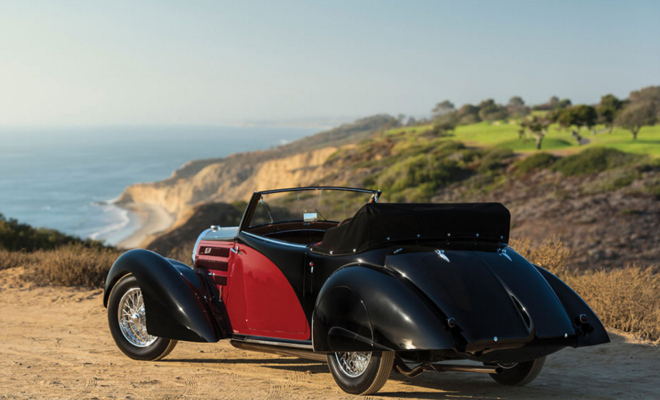 RM Sotheby's in Scottsdale
Looking to start the year on the right foot, RM Sotheby's 18th annual Arizona auction is bringing style and power in equal measure to Scottsdale.  Highlights include a 1961 Ferrari 400 Superamerica SWB and a 1971 Lamborghini Miura SV, both expected to fetch in excess of two million dollars.  With exceptional sell rates and only the finest automobiles, this year's auction is getting a lot of attention from Premier's team of leasing experts.  Here are a few of the cars they'll be watching.
Keith Neelans, our Northeast Sales Manager, is interested in the 1958 Porsche 356 Cabriolet at Lot 145. Unlike the Speedster, which was stripped-down as a low-cost option for racers, Cabriolets like this one came with full weather protection and a well-appointed interior.  The 1600 Super designation is quite sought after among collectors for its increased horsepower and rarity.  Benefiting from a recent restoration, this Porsche is perfect for any vintage rally.
Chris Warren, the Southeast Sales Manager for Premier, grew up loving cars like the 1933 Rolls-Royce Phantom II at Lot 143.  Unlike most of the Phantom IIs shipped to the States, this convertible example was bodied by renowned British coachbuilder Hooper. It is also one of the few Phantoms shipped to the U.S. with full "Continental" trim, including an up-rated engine and advanced suspension.  This all-weather tourer is a fine example of the final evolution of Rolls-Royce's iconic Silver Ghost.
West Coast Sales Manager Juan Garcia is watching the 1939 Mercedes-Benz 540 K at Lot 258.  This elegant roadster is the embodiment of engineering and aesthetic excellence, a combination that won it an award at the Pebble Beach Concours d'Elegance.  A low estimate of 7.4 million dollars places this Mercedes among the cream of the crop at this year's Scottsdale auctions.
Lot 227's 1955 Ferrari F50 has caught the eye of Premier's Southwest Sales Manager, Michelle Yancey.  The F50, like the F40 before it, was a celebration of Ferrari's unprecedented victories in motorsport. Its 520 bhp V12 was directly derived from one used by Ferrari in F1.  This example is exceedingly rare; Of the 349 produced globally, only 55 were made for the U.S. market, and only two of those were finished in this brilliant Nero livery.
The 1966 Shelby Cobra at Lot 157 is creating a lot of buzz around the water cooler at Premier's corporate office in Woodbury, CT.  Carroll Shelby's move to force a Ford V8 into the chassis of a light British roadster changed the face of American racing and inspired thousands of replicas. This street-legal car is one of Shelby's big-block Cobras, with a 427 cubic-inch V8  capable of propelling the light, aluminum body to almost 170mph.
Leasing from Auction with Premier
Premier is your perfect partner for the Scottsdale auctions.  Our Simple Lease conserves your capital for thriftier uses and gives you the freedom to keep your car or terminate early.  If you're planning on bidding at any of the Scottsdale auctions, call Premier to get pre-approved, but not before you brush up on the auction basics.
Save
Save