Vintage Corner: 1965 Jaguar E-Type Series 1 4.2-Litre Roadster
E-Types shone brightly in Scottsdale.
Jaguar drove into the auction history books this month when a 1963 E-Type Lightweight, one a dozen originally built, sold for $7.37 million at the Bonhams Scottsdale sale – the highest sale price from the 2017 Scottsdale auctions. Meanwhile, over at the RM Sotheby's auction, a stunning restored 1965 Series 1 4.2-litre Roadster went for a considerably more accessible $308,000. That sum was also quite impressive considering that Jaguar made nearly 6,800 of them.
For those wanting an early Jaguar E-Type to drive, to really enjoy on the road, marque aficionados usually recommend a Series 1 4.2-liter model, which Jaguar introduced in late 1964. Although still called a Series 1, the 4.2 brought many upgrades over the earlier 3.8-liter models but retained the desirable covered-headlight look that would disappear in 1967.
Dangerous Curves
Jaguar caused a sensation with the introduction of the XK120 in 1948, but by the late 1950s, its successor, the still-fast XK150, had taken the basic design theme well past its expiration date. Then, at the 1961 Geneva Motor Show, Jaguar again dropped jaws with its next regular-production sports car, the E-Type, known as the XK-E in America.
The E-Type was a sensation on the road, with Aston Martin performance at a much lower price. The daring design seared the E-Type's image into the minds of car enthusiasts the world over. Even Enzo Ferrari was said to be a fan. The car's curves seemed unfathomable for a mass-production car and were reminiscent of the experimental Alfa Romeo Disco Volante of the early 1950s. Closer to home, the Jag E-Type essentially modernized and productionized the look of the limited-production 1957 XK-SS, itself a road version of the D-Type racecar.
Thoroughly Modern, Thoroughly Fast
With a 265-horsepower, 3.8-liter version of the fabled Jaguar XK double overhead-cam inline six, the E-Type was very fast for the day with 0-60 in under 7 seconds and a top speed near 150 mph. Beneath the slinky body, the E-Type sported independent rear suspension and four-wheel disc brakes when Ferraris and Maseratis were still riding on solid rear axles and leaf springs.
Fault Fixer
The first E-Type was not without faults, though, among them cramped seating, a balky transmission and oil burning. A critical update arrived for 1965, though the Series 1 designation remained. These would be known as Series 1 4.2-liter models for the larger version of the six.
Still with the same 265 horsepower rating, the larger engine spun out more torque, now 283 lb.-ft. at 4,000 rpm. Keep in mind that the E-Type Series 1 4.2 roadster weighed a scant 2,500 pounds, according to a February 1965 Car & Driver road test.
The magazine recorded similar performance to the older 3.8-liter model, with 0-60 mph in 6.5 seconds. The all-American performance yardstick of quarter-mile acceleration was also quite impressive: 15 seconds flat at 98 mph. A top speed of 130 mph seemed below claims but was heady for the day in any case. Also fairly impressive, the Jag E-Type returned 16-22 mpg during the magazine's testing.
Car & Driver also lauded Jaguar for addressing the 1961-1964 E-Type's shortcomings by giving the 4.2-liter model a fully synchronized gearbox, more comfortable adjustable seatbacks and a new brake booster. Jaguar wisely left the exterior as-is for this first revision of its masterpiece.
A Bluer Shade of Jaguar
Now, of course, there aren't 6,800 Jaguar E-Type Series 1 4.2 roadsters left in the world. Demand is suitably stronger than supply, however, warranting investment in full restorations. Unfortunately, there was a long period when that wasn't the case, and many were left to rot — something E-Types did well.
This RM Sotheby's E-Type Series 1 4.2 roadster was a documented "matching numbers" car with a Jaguar Daimler Heritage Trust (JDHT) Certificate. The seller had completed a bare-metal restoration of the car, having it finished in a factory color, Opalescent Dark Blue, with the interior done in Cinnamon leather. It's a stunning combination, and that deep blue could make you forget all about British Racing Green.
It was restored to be driven, with a fully rebuilt engine, upgraded brake and cooling systems and a higher final-drive ratio for calmer highway cruising. RM Sotheby's described it as "among the most striking and best-restored E-Types to have been offered in recent memory."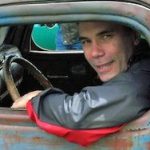 Written by Jim Koscs,  Audamotive Communications
For Premier Financial Services
Save
Save
Save
Save
Save
Save
Save