The Concorso Italiano 2017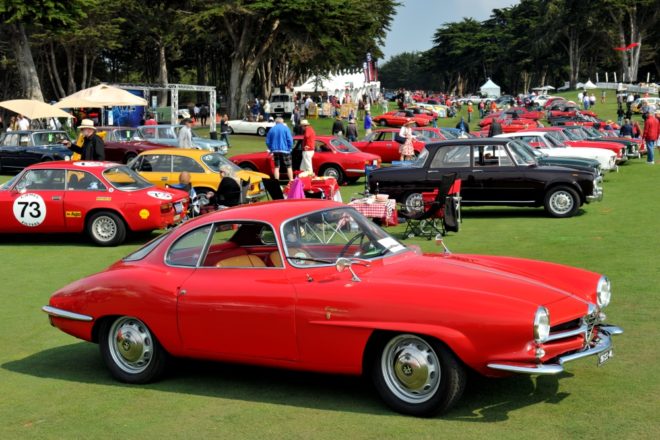 The Concorso Italiano
When: Saturday, August 19th, 2017
Where: Black Horse Golf Course – 1 McClure Way, Seaside, California
Admission: $175
Contact: ci@concorso.com
Information: concorso.com
You'll Be Seeing Red
Where the Werks Reunion values engineering excellence and The Quail admires rarity, the Concorso Italiano celebrates beauty. It's a pop-up museum. A rolling sculpture garden, shipped in parts from the Apennine Peninsula over the course of a century.  A grand exhibition of piecemeal consignments featuring the greatest works of artists like Giugiaro and Gandini. It doesn't take more than a walk around the Concorso to confirm, from supple curves to origami edges, that Italy has been at the forefront of automotive art in the postwar period.
The Concorso is big, even by Monterey Car Week standards. Up to 1000 cars will flood the Black Horse Golf Course in a veritable sea of rosso corsa. Ferraris make a major showing, with modern halo cars like the F50 and La Ferrari joining the marque's classic, front-engined V12s. If you're feeling a bit sea sick, seek out the Lamborghini section for its refreshing neon palette.
Far From a One-Marque Wonder
With The Quail featuring the best of Ferrari and Pebble Beach's love of Maranello, another Ferrari display might seem gratuitous.  There are two problems with that line of reasoning: you can never have too many Ferraris, and there's a lot more to Italian cars than just prancing ponies. Maserati, Bizzarrini, Iso, Pagani, the list goes on, with even the most scarce models finding their way to the Concorso Italiano. Larger production Italian cars like Fiat's 500 series and Alfa Romeo's Spiders also receive the attention they deserve.
While the cars registered tend to fall into the classic and modern periods, don't be surprised to see a few antiques in the mix.
Better Than a Hat or Handbag
Since the dawn of internal combustion, there's been no accessory more chic than an Italian sports car. It's all too fitting that the Concorso hosts a concurrent fashion show, emphasizing the historical importance of these vehicles as aesthetic trailblazers and archetypes of style.
If, for some strange reason, $175 seems a little steep for six and a half hours of unprecedented access to some of Italy's most striking creations, just remember the admission price includes parking – an almost priceless commodity on Monterey's crowded streets.