Model Masterpiece: Ferrari F60America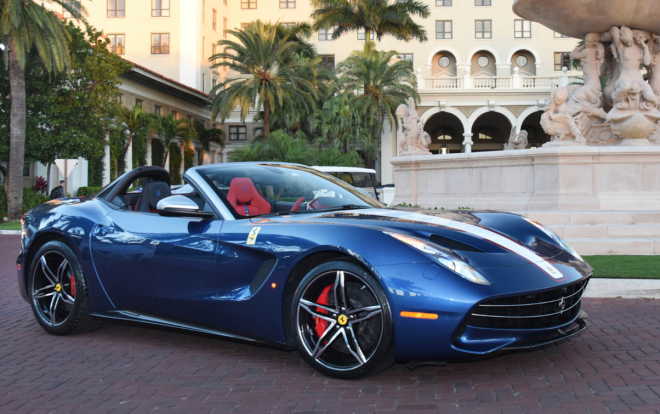 Ferrari Celebrates 60 Years in America with a Car Named for It.
Nobody does speciale like Ferrari. Even in an age when global auto regulations make building custom vehicles for public sale difficult, if not impossible, Ferrari finds a way to do just that. The F60America is one of its most thrilling forms of proof.
Ferrari went back to its 1950s and 1960s tradition of building short-run specials to offer just 10 F60Americas, all for American clients. In its initial press release for the F60America in the fall of 2014, Ferrari stated that all 10 had already been spoken for.
The F60America introduction, then, served mainly as a promotional event to keep selling the dream to Ferrari owners and fans alike. Like no other carmaker, Ferrari has mastered the art of stoking envy and car lust.
In January 2016, the Italian marque delivered the first of the 10 F60Americas built to its owner at the Ferrari world's biggest celebration, the Cavallino Classic. The car was then, for a short time, displayed in a secluded showroom at Ferrari of San Francisco. (Viewers could see it by special appointment.)
"This is not just one of 10 made," said Mark Paddack, general sales manager for Ferrari of San Francisco. "It's the first one made. That makes a difference for collectability."
No Roof, No Problem
The F60 America is, essentially, a topless version of the F12berlinetta, with a few design detail differences. "Topless" is the appropriate term, because the F60America is a true roadster lacking a folding convertible roof. Behind leather-trimmed roll-hoops, carbon-fiber-trimmed flying buttresses stretch to the rear, recalling sports-racers from the 1950s. The driver can attach a light fabric top in case of rain, but it's functional up to about 75 mph. That's 125 mph short of the F60America's top speed, delivered by the F12berlinetta's 731-horsepower V12.
Ferrari's Ultimate Customer Loyalty Perk
The U.S. has long been Ferrari's top market, and its heritage includes several models created for its most loyal customers in mind. To mark its 60th year in the North American market, Ferrari took a page from 1967. The company that year began building 10 275 GTB/4 Spiders at the request of its U.S. distributor at the time, Luigi Chinetti. He called the car "NART Spider" as homage to his North American Racing Team.
The shocking part of that story is that Chinetti originally wanted 25 NART Spiders, but lack of customer interest ended production at 10. At the time, Ferrari already offered the beautiful 275 GTS convertible. That model, however, wore a very different, more conservative body design than the 275 GTB/4 on which the NART Spider was based, and it used a less powerful three-carburetor version of the V12 engine.
A Tribute to Chinetti
For a 60th anniversary celebration model, Ferrari decided to honor Chinetti's role in growing the marque in America with a car that paid homage to the NART Spider. The F60America was first presented to a select group of elite Ferrari owners in October 2014. The car they saw, and that was later unveiled to the public, was painted in the classic NART livery.
According to Paddack, the lucky 10 Ferrari customers selected to purchase the F60Americas each had the opportunity to customize their ultra-rare machines. The buyer of the first one, he said, chose to keep the striking NART livery but specified a red border for the car's white exterior stripes.
Evoking Classic Ferrari Racecars
The F60America cockpit is no less distinctive than its striking exterior. The asymmetrical design highlights the driver's area with red trim, while the passenger side is black, inspired by the historic Ferrari racecars.
A stylized yet tasteful American flag motif runs down the center of each seat and backrest, and carbon fiber trim abounds. The Ferrari Tailor Made design team might have outdone itself on this one.
Ferrari's More "Common" Special Roadsters
The decision to build 10 of F60America models stands in stark contrast to Ferrari's previous V12 speciale roadsters. Ferrari made 448 of the 2001 550 Barchetta, a true roadster with no convertible roof. Five years later, Ferrari built 559 copies of its 575M Superamerica. On this model, a unique electrochromic glass hardtop rotated 180 degrees rearward in a unique display of convertible roof showmanship.
If you're not one of the 10 F60America owners, those two models offer a much better chance of driving a (relatively) rare V12 Ferrari roadster.